Open House
Saturday June 21, 2008 Our Lady's Workshop 12 - 4 p.m.
Our Ladyís 38th Anniversary was a very successful and grace-filled weekend. About 100 pilgrims gathered for the Open House at Our Ladyís Workshop. They got a first-hand look of our sizeable operation when they toured the offices and pressroom. They also enjoyed good conversation, refreshments and our gardens.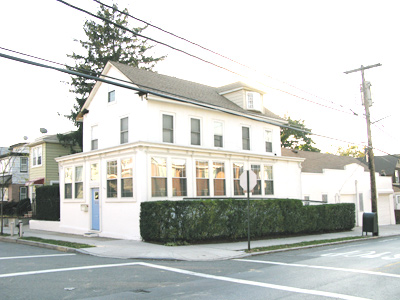 Our Lady's workshop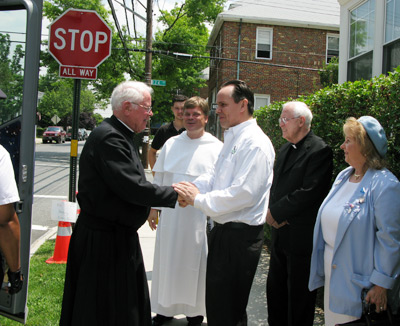 Michael Mangan (c.), President, greeting Fr. Ted Bradley (l.) of Spokane, Wash. and all the pilgrims as they exit the bus. On the right is Regina Fox, SMWA Pilgrimage Coordinator.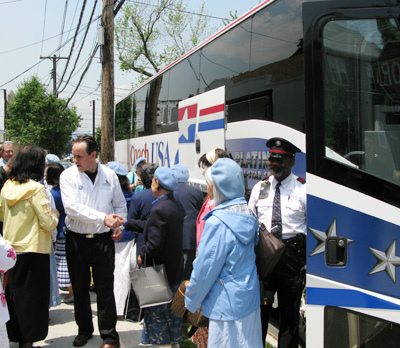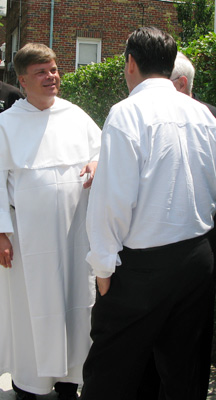 Fr. William Scott Daniels O.P. of Memphis, Tenn.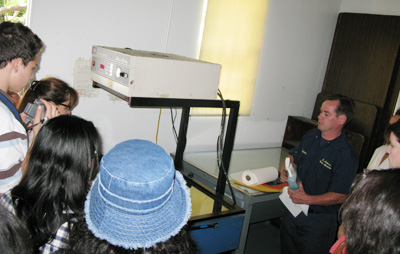 Francis Harrington of Burlington, Mass., pressman by trade who volunteers his time for SMWA, demonstrating how Our Lady's Message is burned onto the metal plates.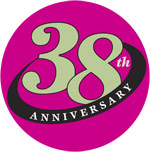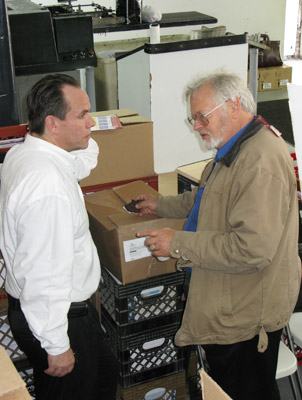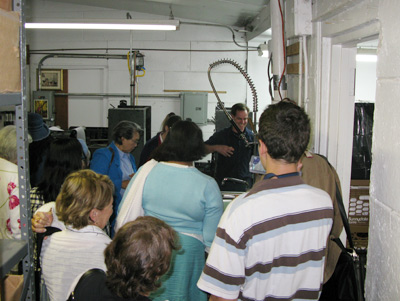 Francis demonstrating the printing process
Here's our 13 x 17, 3 station web press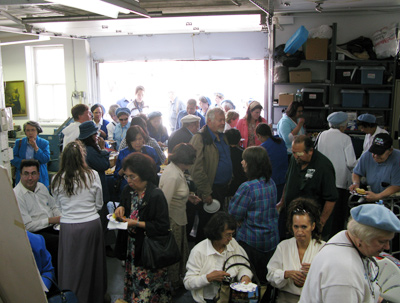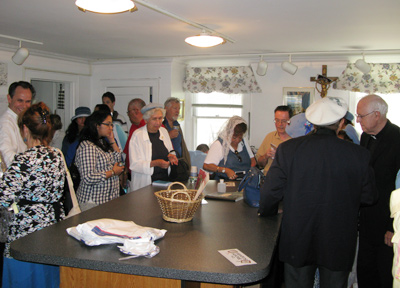 In the mailroom getting their sacramentals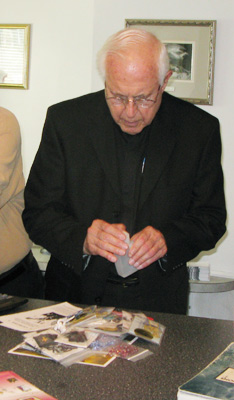 First-time pilgrim, Fr. Joseph Petitt of Lansing, Mich. blessing some sacramentals.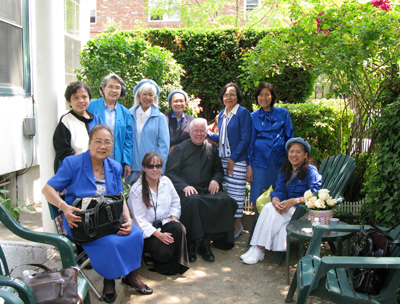 Fr. Ted Bradley with some of the Northern California pilgrims in the "Vatican" gardens.
Amy Kiesling (l.), Albuquerque, N.M. organizer with her sister, Barbara Perea of Austin, Tex.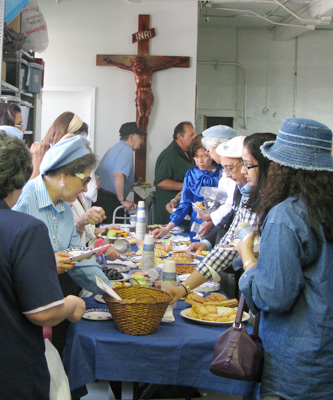 The good pilgrims getting refreshment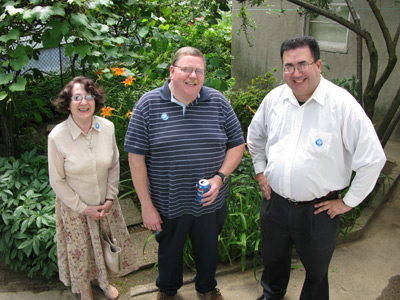 (l. to r.) Ryszarda Kostrozynska of Ridgewood, N.Y., Peter Castricum of Budd Lake, N.J., and Manuel Cortes of The Bronx, N.Y.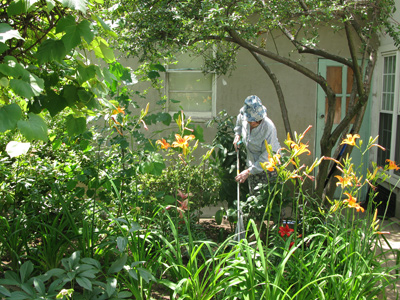 Ryszarda generously volunteers her time for Our Lady's Mission. She's preparing the gardens for the Open House.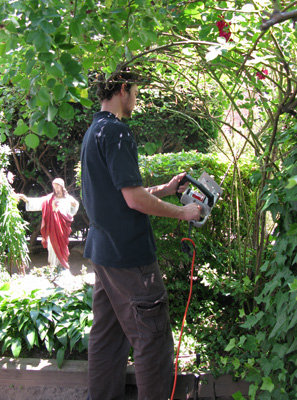 Michael Bauer of Cape Cod, Mass., trimming the hedges before the Anniversary weekend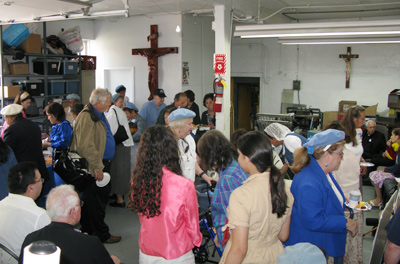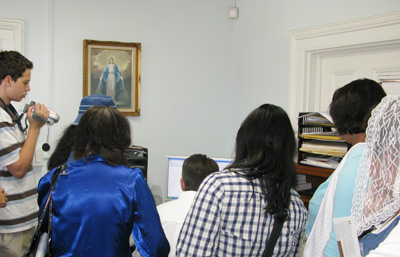 Michael showing the website in the Art Department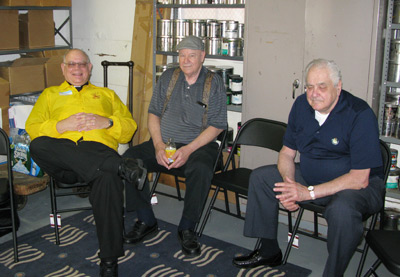 Fr. Justin McCreedy (l.) of University Place, Wash. with Ralph Lux, our Chicago, Ill., organizer and Harry Lux (r.) of Lombard, Ill.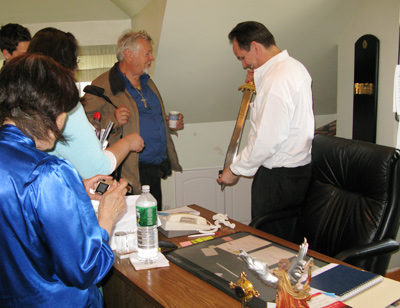 Michael exhibiting the steel sword of St. Michael, a replica from the Vatican Museum, that hangs in his office.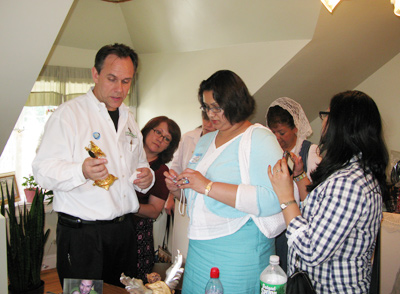 Michael showing the pilgrims the reliquary that contains a piece of the crucifix that Veronica of the Cross would clutch during her ecstasy and that the Blessed Mother would kiss at every Vigil. Some pilgrims had the special privilege of venerating this at the end of the tour.
Michael posing for pictures with the sword in one hand and the beautiful wooden hand-carved St. Michael statue in the other.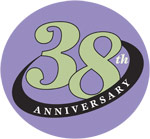 NEXT PAGE
Open House | Procession | Rosary Vigil | Veneration of the Rosary
Holy Hour | Banquet | Special Mass | Organizers' Conference
38th Anniversary Index | Home