Our Ladyís 38th Anniversary Banquet
Sunday June 22, 2008 LaGuardia Marriott Hotel
Grand Ballroom 12 - 4:00 p.m.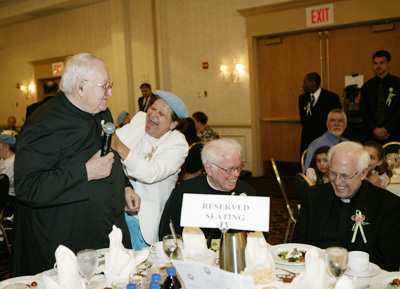 Fr. Skurla sharing laughs with Angela Urquia and Frs. Bradley and Petitt before Grace.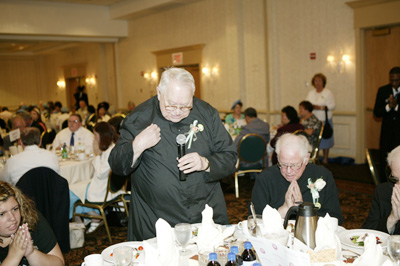 Fr. Skurla giving the invocation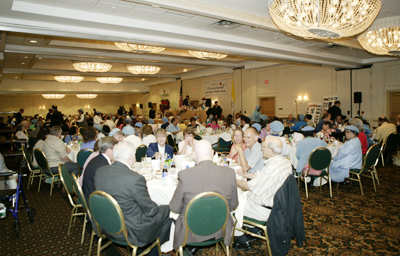 230 pilgrims from throughout the world
"I was very pleased at the numbers present at the Banquet. It eases my heart to see so many true souls present." Our Lady, June 21, 1992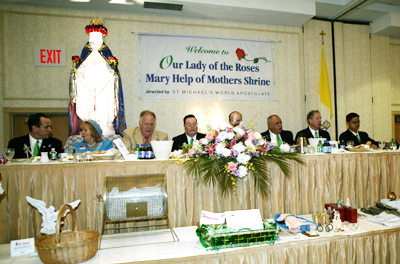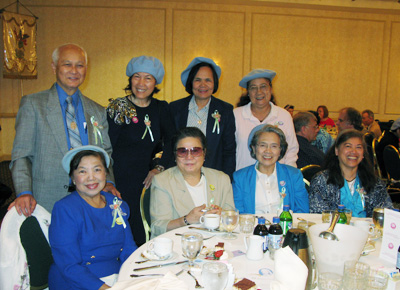 Pilgrims from Northern California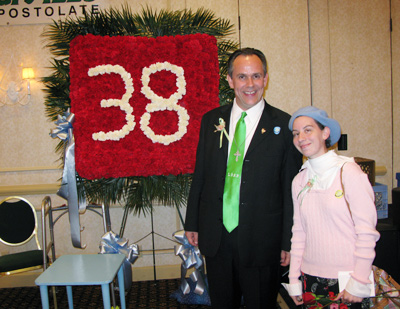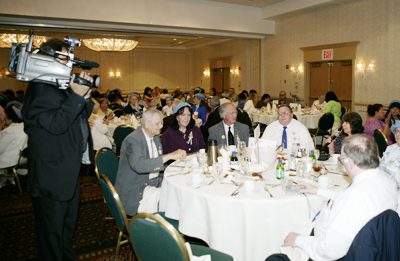 Joann Castricum of Budd Lake, N.J. sharing her thoughts on the 38th Anniversary weekend.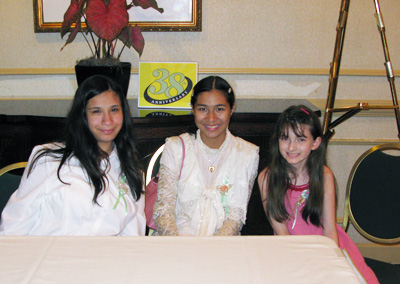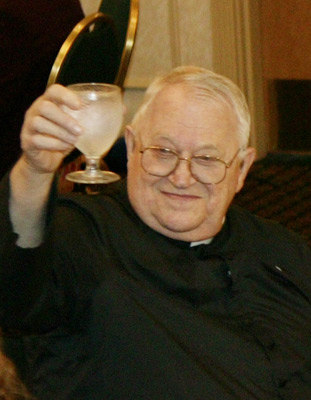 Fr. Skurla giving a toast to all members of St Michael's World Apostolate.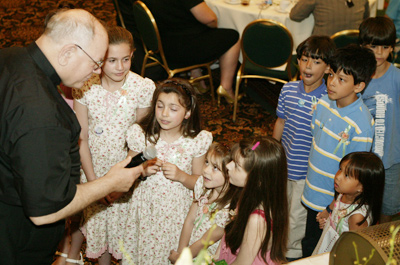 Fr. McCreedy presenting the gifts to the children.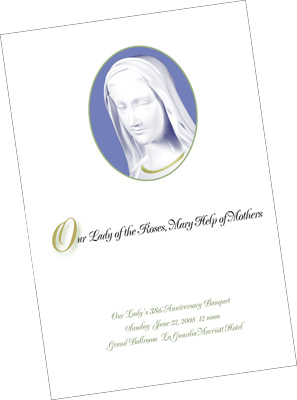 38th Anniversary Banquet Program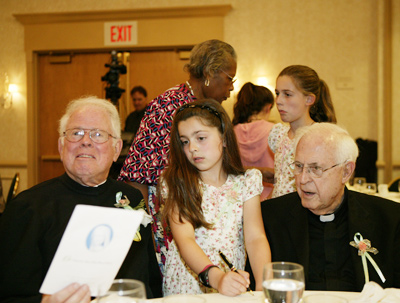 Fr. Bradley looks amused after viewing the back of the Anniversary program (below) which commemorates his 50th Jubilee of Priesthood.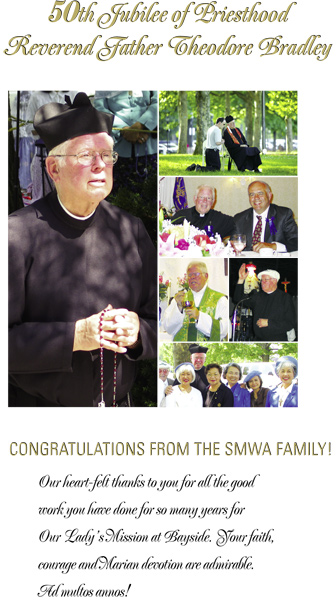 This photo was on the inside of the Banquet program.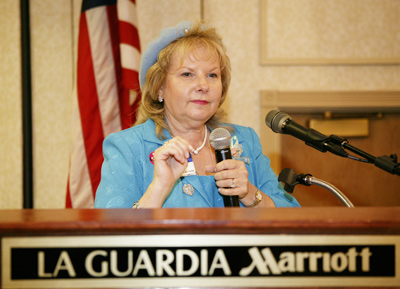 Regina Fox, SMWA Pilgrimage Coordinator, gives a welcome address.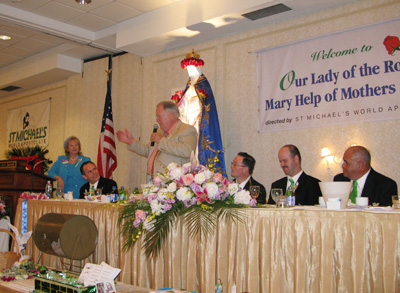 Her husband, Jim, keeps everyone laughing as he tells a few jokes. A special thanks to Jim and Regina for all their hard work in assisting the Lay Order of St. Michael in making Our Lady's special weekend a successful one.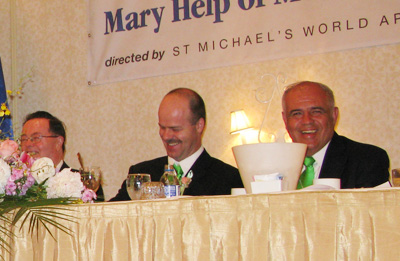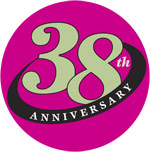 Gabriel Garnica, college professor, licensed attorney and frequent contributor to conservative websites, delivering some keen insight on the uncanny similarities between the Bayside and Garabandal events in his informative talk, titled: "Two apparitions: one Mother." To read one of his latest articles, "The Stations of The Pines (at Garabandal)" click here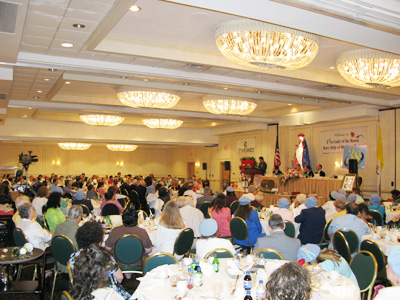 Fr. William Scott Daniels O.P., delivered a riveting talk which focused on the infinite mercy of God. He also testified to the manifold blessings which he received at Our Lady of the Roses Shrine.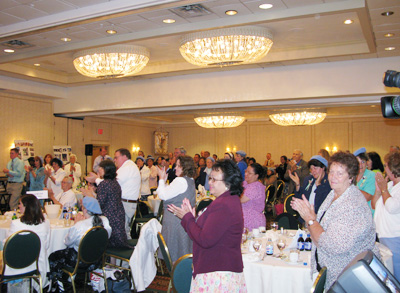 Afterwards, Fr. Daniels received a standing ovation.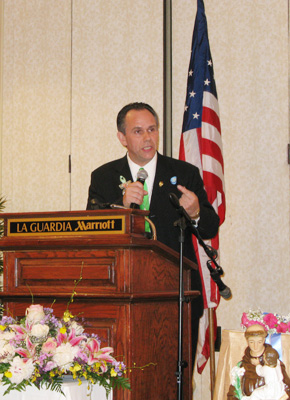 Michael Mangan delivering his rousing talk: "Bayside: spiritual powerhouse and rock for our times."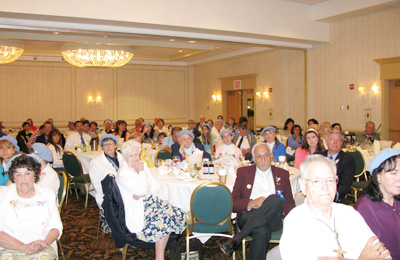 A captivated audience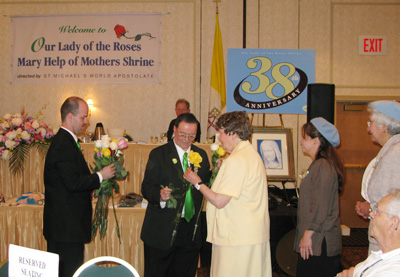 James Donohue, Vice President of SMWA gives a rose to each organizer.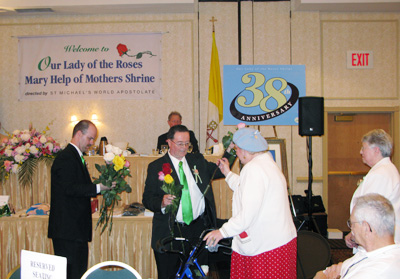 Joan Collinson of Hamilton, N.J.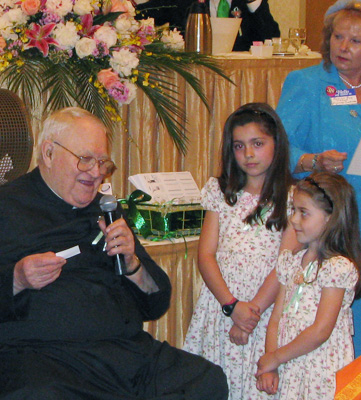 Fr. Skurla, assisted by some young devotees, announcing the winners of the door prizes.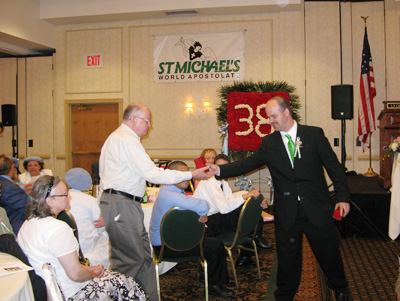 Brian Hegarty of Long Island City, N.Y. wins a prize.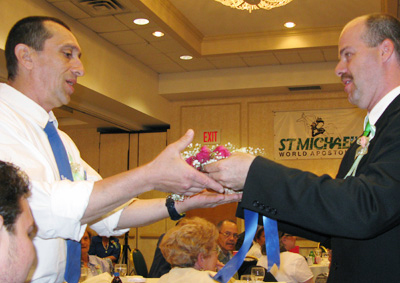 Jose Valle's lucky day: accepting one of many prizes.
James Maat of River Edge, N.J. won the exquisite first door prize: framed picture of Our Lady of the Roses, Mary Help of Mothers.
38th Anniversary Raffle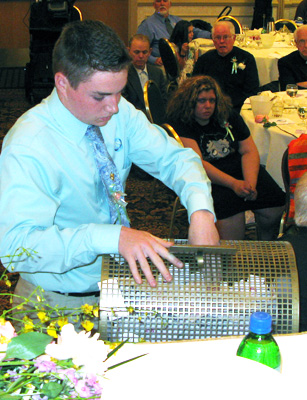 Philip Harrington of Spokane, Wash. picked the winners this year.
1st Prize winner
Pilgrimage Package for 2 to the 13th Anniversary of
Veronica of the Cross Weekend ($1500 value)
or $1500 cash
Rosemarie Lundrigan
Bensalem, PA
2nd Prize winner

Phyllis Vasques
E. Boston, MA
18" St. Michael statue ($250 value)
3rd Prize winner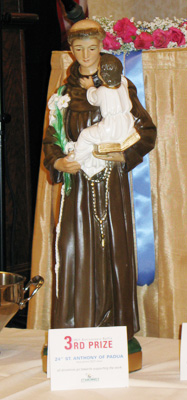 Mary Thomas
Mesa, AZ
24Ē St. Anthony of Padua ($225 value)
4th Prize winner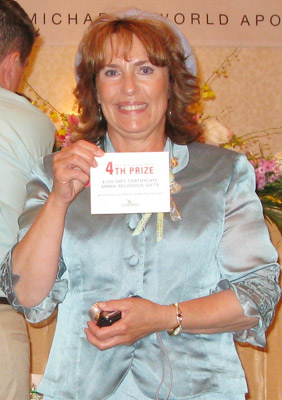 Michelle Lowell
Spokane, WA
$100 gift certificate to SMWA gift shop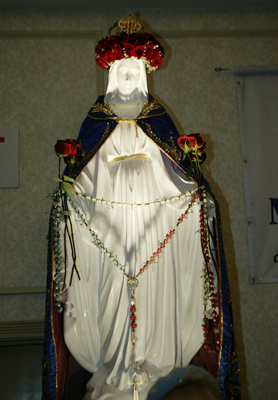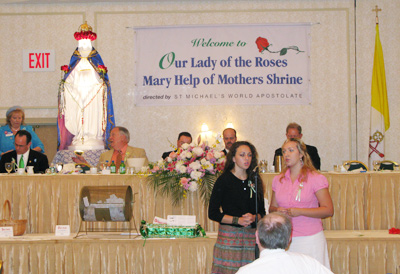 Mary Rose and Catherine Bauer sang Ave Maria and The Impossible Dream.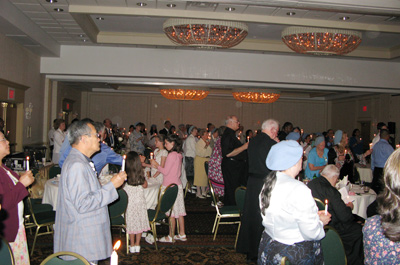 The candlelight ceremony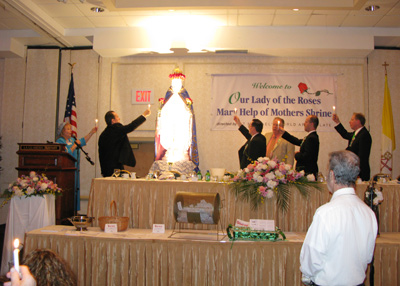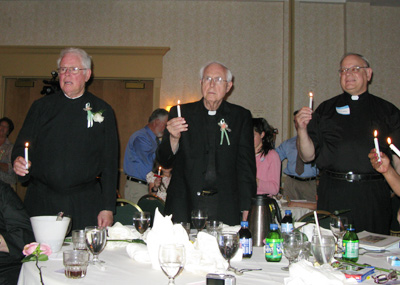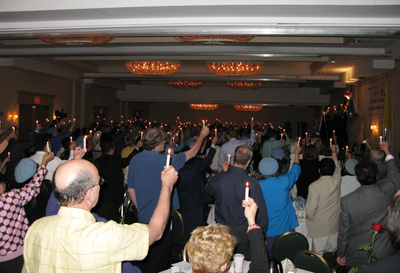 Mary, Light of the world, pray for us
Our Lady of the Roses, pray for us
Mary, Help of Mothers, pray for us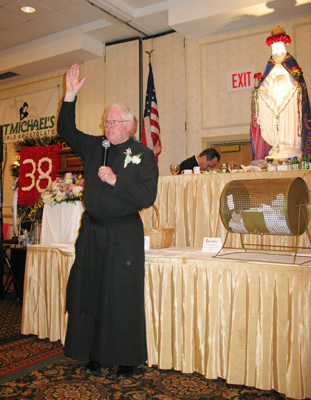 Fr. Bradley giving us his priestly blessing to end the Banquet.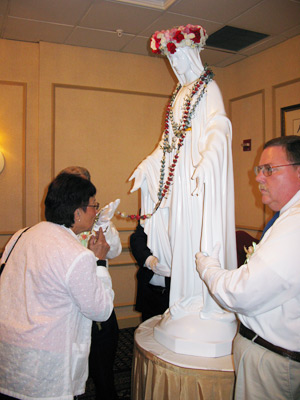 After the Banquet, the pilgrims venerated the Crucifix kissed by Our Lady.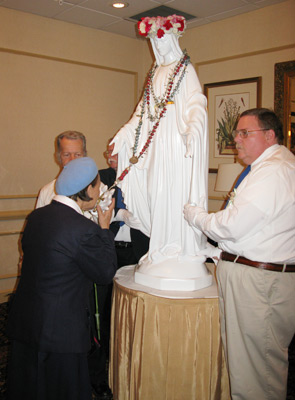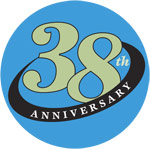 Your comments on this report are appreciated
Open House | Procession | Rosary Vigil | Veneration of the Rosary
Holy Hour | Banquet | Special Mass | Organizers' Conference
38th Anniversary Index | Home