Our Lady's 38th Anniversary Rosary Vigil
Saturday June 21, 2008 Our Lady of the Roses Shrine 7:30 p.m.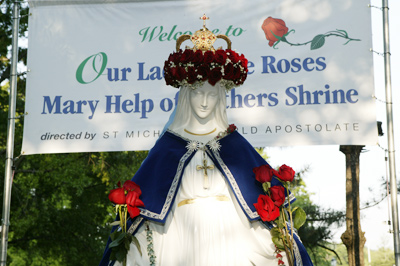 "I have prayed for the direction of Heaven, and due to the urgency of the coming Warning and Chastisement, I must continue ahead with the Message of Heaven to the world. The vigils cannot be stopped at this Shrine. The prayers of atonement must not be stopped. It is the will of God."
Veronica, November 1, 1973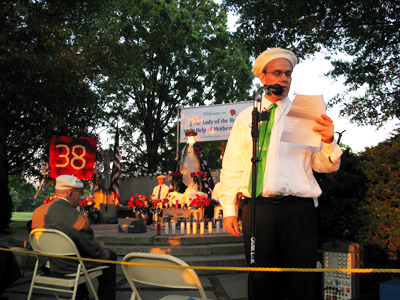 Michael greeting the over 550 pilgrims that came from across the globe. Here is his opening statement:
Dear Brothers and Sisters in Christ,
Good evening and welcome to Our Lady of the Roses Shrine.
My name is Michael Mangan, the President of St Michaelís World Apostolate. And on behalf of all the workers/guards of SMWA and the Lay Order of St. Michael, I want to wish each and every one, a very happy and grace-filled 38th Anniversary of Our Ladyís appearances here at Bayside under the powerful title of Our Lady of the Roses, Mary Help of Mothers.
We want to thank you for your prayers, love and support and we appreciate the sacrifice it took for you to come to these sacred grounds, many who have traveled hundreds if not thousands of miles. We have pilgrims here tonight from Asia, Europe, Central and South America, Canada and of course, most of the states here in America are represented.
We know that you come with grateful and longing hearts for all the unspeakable graces you will receive this Anniversary weekend from the generous hands of Our Lady of the Roses, Mary Help of Mothers..
Lastly, you may have noticed six gentlemen including myself wearing a green tie with the embroidered letters, LOSM. We are the Lay Order of St. Michael, a community of celibate men committed full-time, 24 / 7, to this Mission from Heaven. Our Lady stated in 1974 that ďThe Order of Michael will be established in the United StatesĒ and later told Veronica of the Cross, our beloved seer, that this illustrious order would emerge from our community and consist of priests, brothers, laity and even a Carmelite convent. We ask your prayers that this exciting prophecy be speedily fulfilled.
In the meantime, may you have a very blessed and peaceful Vigil.
Hear this statement and the 4-minute audio excerpt that followed of the June 18, 1991 Message from Heaven click here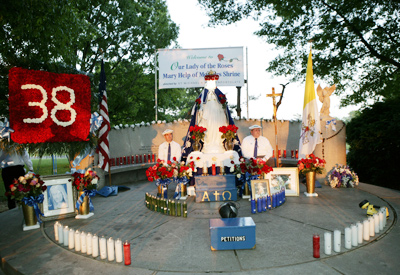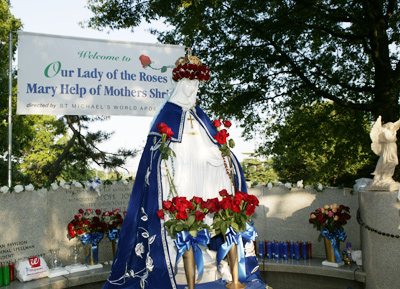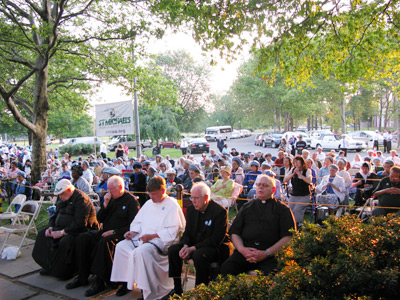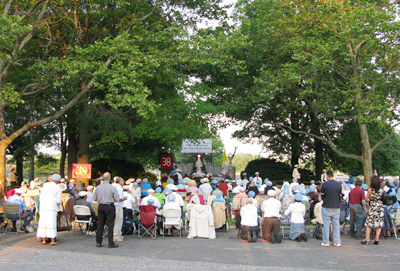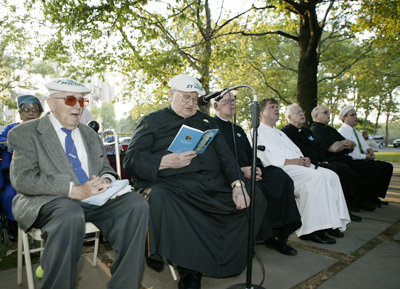 Fr. Robert Skurla of Queens Village, N.Y., praying the litany of the Blessed Virgin Mary.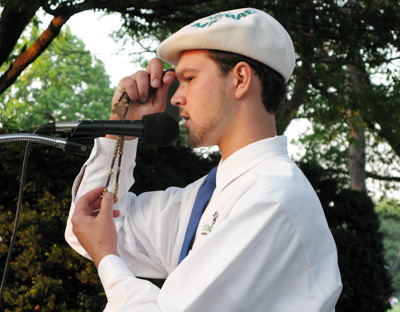 Michael Bauer leading the Sorrowful Mysteries of the Rosary.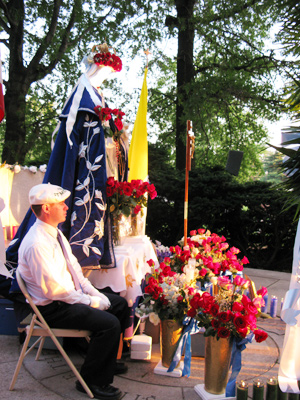 Many prayers of the holy Rosary rise at this center of atonement.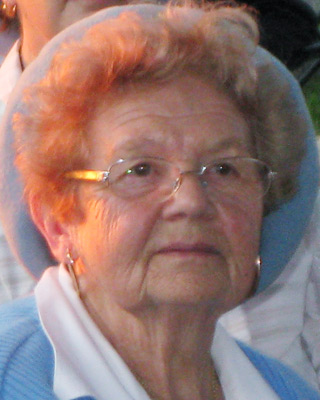 Antonia Rehrl of Kings Park, N.Y.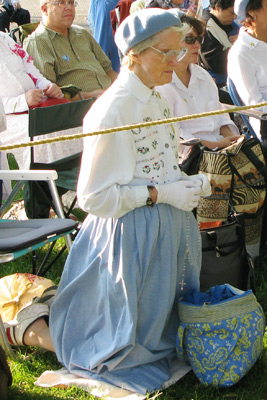 Jane Costello of Gainesville, Fla.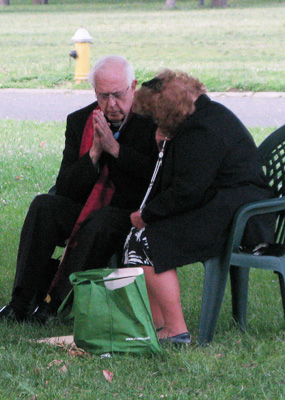 Priests offered the sacrament of penance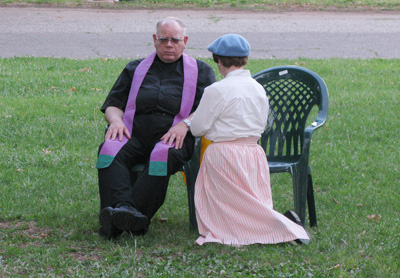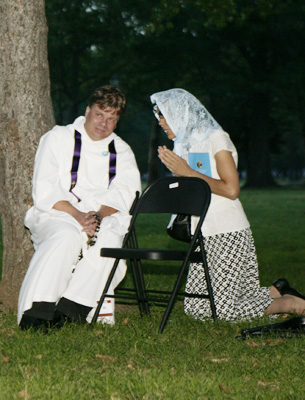 "The young children must be taken by their parents to the temples, the houses of My Son throughout your world. They must learn by habit a good example of cleansing of their soul by confession.
"The good priests of earth, those who have been dedicated and received this consecration from My Son, must take these tender souls and nurture them in their Faith." Our Lady, Nov. 20, 1975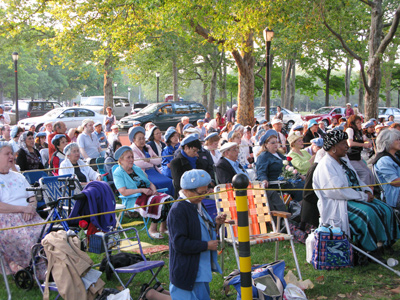 The Message from Heaven, including Heaven Speaks Today and Your Letters, was available in the thousands for free as the pilgrims loaded up so they could evangelize their hometown.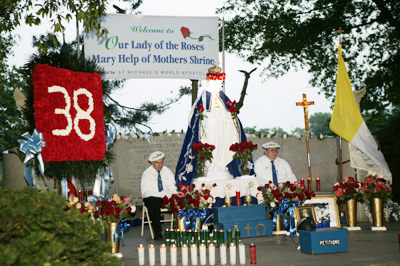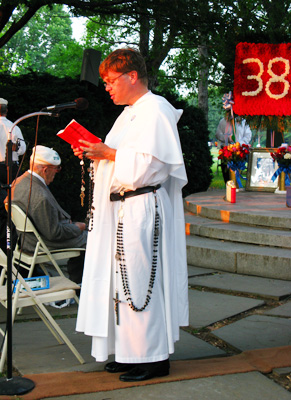 As the sun sets, Fr. Daniels prays the litany of the Sacred Heart of Jesus.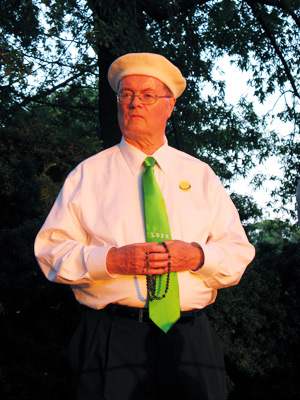 James Donohue, Vigil Coordinator, listening attentively to the 4-minute excerpt from the June 18, 1991 Message. To listen, click here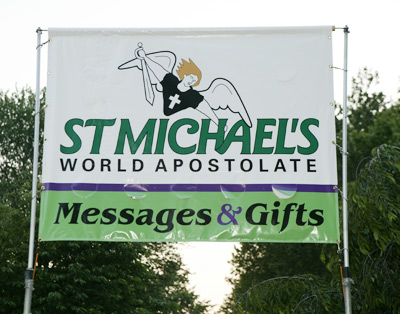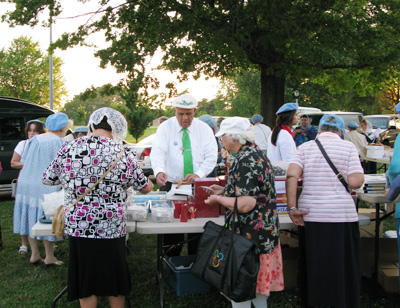 Rosaries, medals and other sacramentals are available at our service area, which is operated by Peter Frank (c.), Lay Order of St. Michael. The Message from Heaven is also made available as the pilgrims help themselves to the free brochures and newsletters.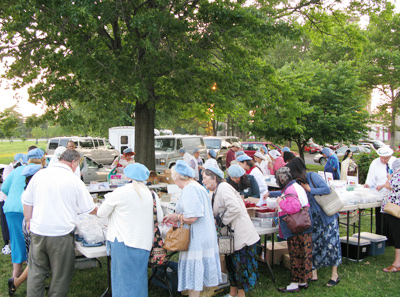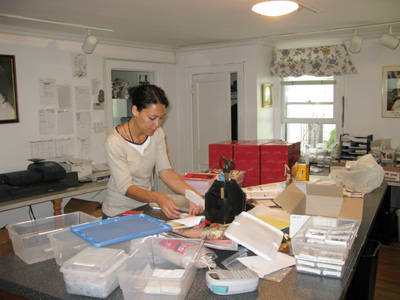 Madeline Colon of College Point, N.Y. helping Peter prepare just days before the Anniversary Vigil.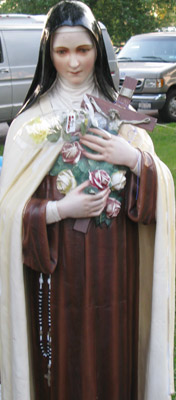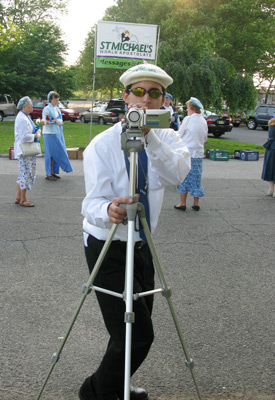 Matthew Castricum of Budd Lake, N.J., filming for SMWA.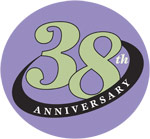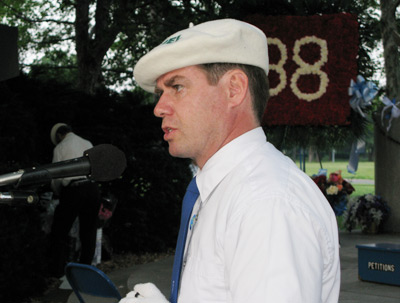 Francis Harrington leading a rosary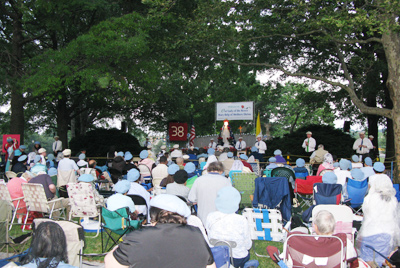 "Remember: one Rosary a day, at least--at least, I say, must be prayed in the home that is to be spared."
Jesus, April 14, 1984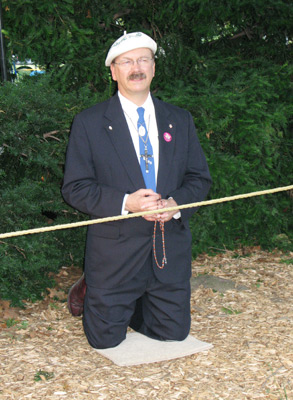 Michael Drake of Brethren, Mich.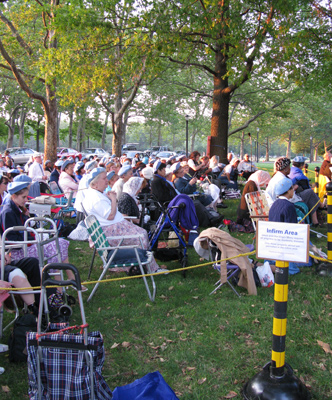 The infirm area: on September 30, 1980, Our Lord instructed Veronica to set up a special roped-off area for the sick and suffering. They would be the beneficiaries of outstanding graces at all Rosary Vigils. Numerous cures and conversions have been wrought, some of them massive, with doctors' statements and medical documentation providing authentication.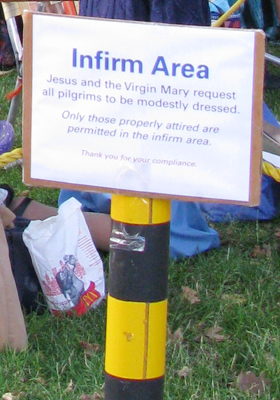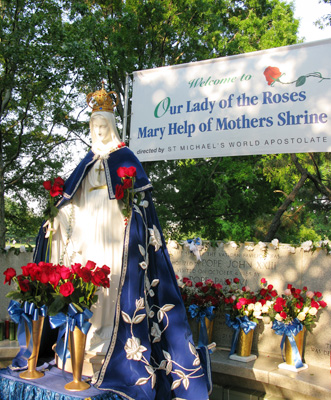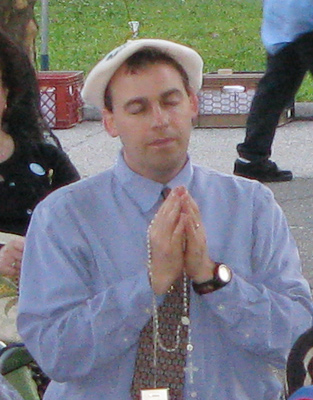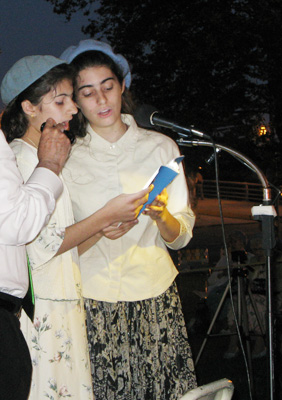 Mary and Marisa Consoli of Yardley, Penn. sang Fatima Ave; On this Day, O Beautiful Mother and O Sacred Heart, O Love Divine.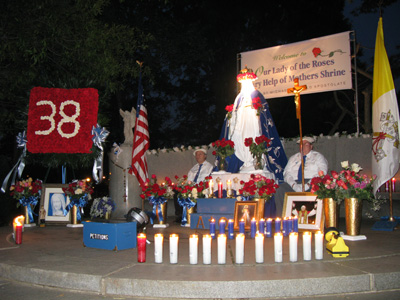 One of the reasons we pray on the Sacred Grounds is for atonement. Our Lady has said on April 14, 1973 that, "Should the prayers of atonement be discontinued on these sacred grounds, the Chastisement in earth time will be hastened."
Each Vigil at 9 p.m., during a solemn interval, the pilgrims kneel and raise their Rosary to Heaven invoking the powerful intercession of Jesus and Mary.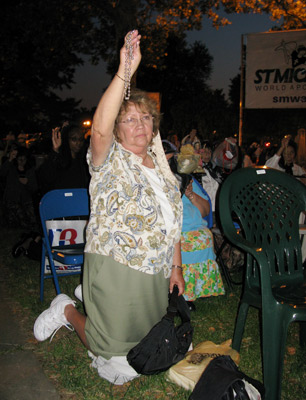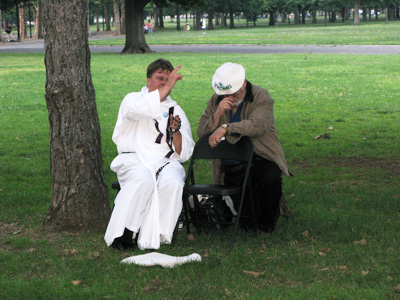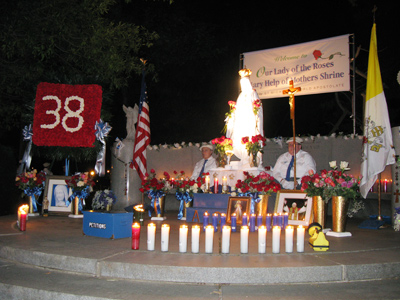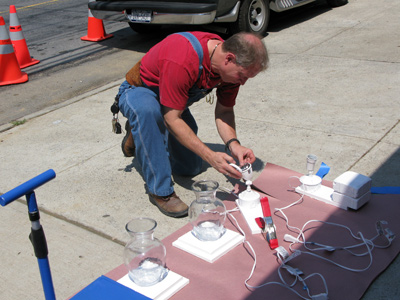 Bill Dykes, LOSM, preparing for the Anniversary.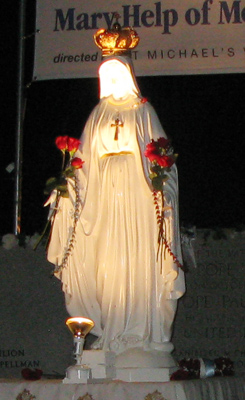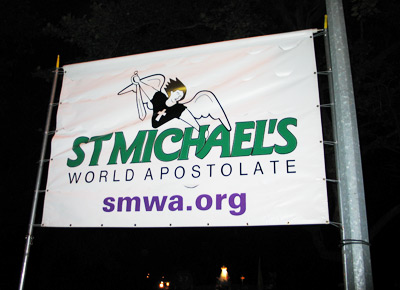 All roses are blessed by Jesus and Mary with the power of cure and conversion. They are passed out near the end of the Vigil (and Holy Hour) to the pilgrims who later press them in a book and laminate them on special cards (printed by SMWA) for distribution to all God's children, especially the ill and suffering. We receive many testimonials of the power of these mystical roses. For a free Rose Petal click here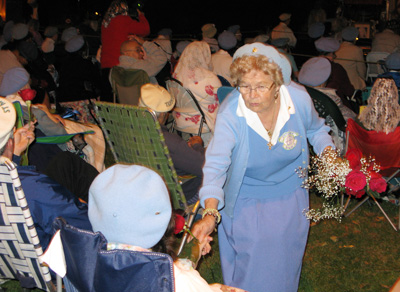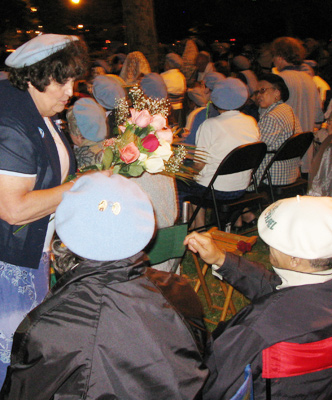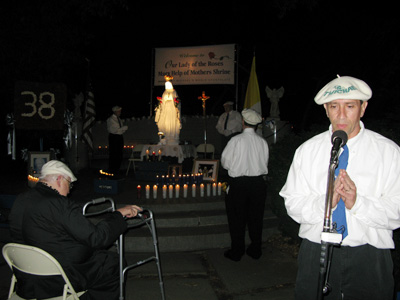 Jose Valle of Kew Gardens, N.Y. leads the Angelus and closing prayers.
Catherine and Mary Rose Bauer of Cape Cod, Mass. sang Ave Maria and Jesus, My Lord, My God, My All.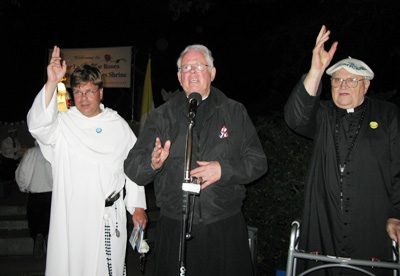 The good Fathers impart their priestly blessing.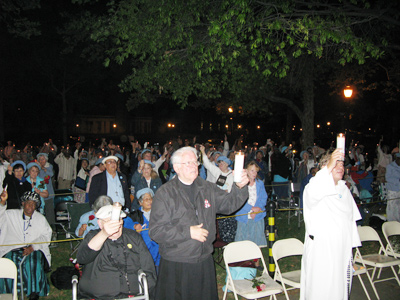 All the pilgrims raise candles to herald the 38th Anniversary of Our Lady of the Roses, Mary Help of Mothers, repeating the words:
Mary, Light of the World, pray for us
Our Lady of the Roses, pray for us
Mary, Help of Mothers, pray for us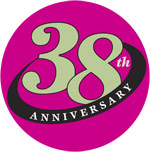 NEXT PAGE
Your comments on this report are appreciated
Open House | Procession | Rosary Vigil | Veneration of the Rosary
Holy Hour | Banquet | Special Mass | Organizers' Conference
38th Anniversary Index | Home