Our Lady's
40th Anniversary
Rosary Vigil
Saturday, June 19, 2010
Our Lady of the Roses,
Mary Help of Mothers Shrine
7:30 - 10:30 p.m.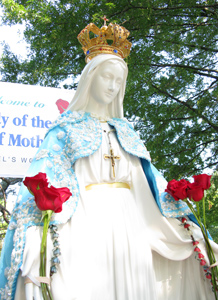 "I have prayed for the direction of Heaven, and due to the urgency of the coming Warning and Chastisement, I must continue ahead with the Message of Heaven to the world. The vigils cannot be stopped at this Shrine. The prayers of atonement must not be stopped. It is the will of God."

Veronica, November 1, 1973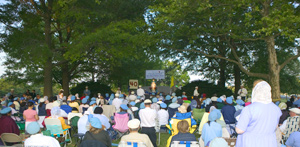 Over 750 pilgrims, many first-timers, attended the Anniversary Vigil.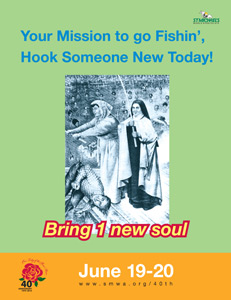 | | | |
| --- | --- | --- |
| | This campaign worked: Many of you hooked new souls | |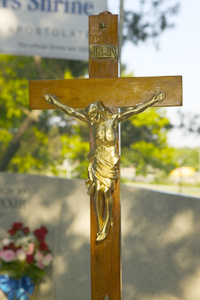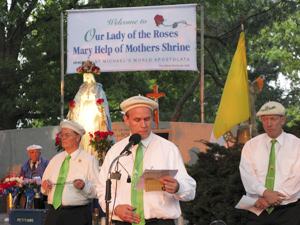 Michael greeting the pilgrims that came from across the globe. Here is his opening statement:
Dear Brothers and Sisters in Christ,
Good Evening and welcome to Our Lady of the Roses Shrine.
My name is Michael Mangan, the President of St Michael's World Apostolate. And on behalf of all the workers/guards of SMWA and the Lay Order of St. Michael, I want to wish every one a very joyous and grace-filled 40th Anniversary of Our Lady's appearances here at Bayside under the powerful title of Our Lady of the Roses, Mary Help of Mothers.
We have pilgrims here tonight from India, Europe, Central and South America, Canada and of course, most of the states here in America are represented.
It seems that many of you have done your Fishin' Mission and have hooked 1 new soul for Our Lady as a 40th Anniversary gift and as an expression of gratitude for abundant blessings received from Her generous hands.
Thank you for your prayers and sacrifice and your recognition for the urgent need of public prayer and reparation as the world and Church plunges into deeper darkness. The Haiti earthquake, Gulf oil disaster, Iceland volcanic eruption, clergy-sex abuse crisis, and the gratuitous attacks on the Pope are just some examples that solemnly remind us that Our Lady's dire warnings and prophecies are unfolding rapidly and, sadly, the consequences will be far worse in the near future if we do not seriously listen to Our Holy Mother.
Also, today marks the end of The Year of the Priest, however, we never cease our prayers for the Pope and clergy. For 40 years we have held a Holy Hour for priests every Sunday outdoors. Please join us any Sunday in this much-needed and charitable deed.
Although we cannot promise you a cure or conversion or healing, we can guarantee you that your petitions will be heard by Our Lady of the Roses.
In the meantime, may you have a very blessed, peaceful and fruitful Vigil. And we hope you join us here again soon where Jesus said in 1991: "We have made our home upon these grounds."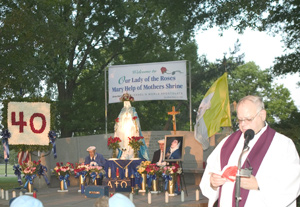 Fr. Justin McCreedy praying the Litany of the Most Sacred Heart of Jesus.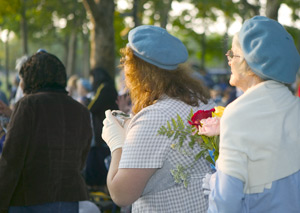 We were blessed with a great miracle! Many pilgrims reported that at the Vigil they witnessed the spinning of the sun which was bathed in brilliant mulit-colors. Nubia Savidge of Kearny, N.J., a Bayside devotee for 35 years, exclaimed it was the first time she had seen this phenomenon.
Trying to capture the miracle on camera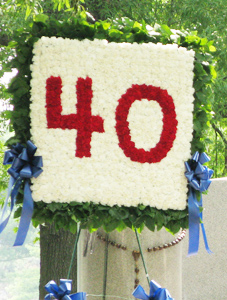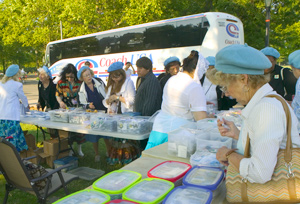 Gift Shop Rosaries, medals and other sacramentals are available at our service area, which is directed by Peter Frank, LOSM.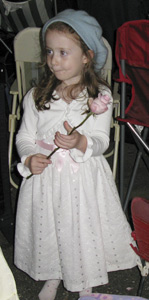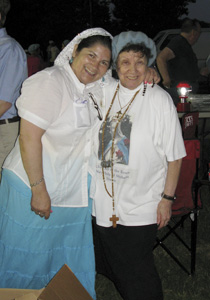 | | | |
| --- | --- | --- |
| | Dahlia Veliz of Jersey City, N.J. and Marion Morris of Stamford, Conn. taking a break from working at the service area. | |
Fr. Robert Skurla, former International Blue Army chaplain, joining in the celebration.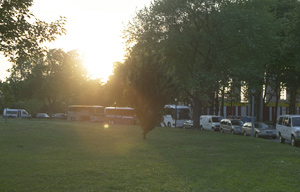 Buses, minibuses and vans came from many points in the U.S.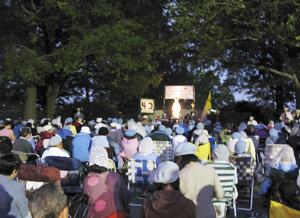 Many prayers of the holy Rosary rise at this center of atonement.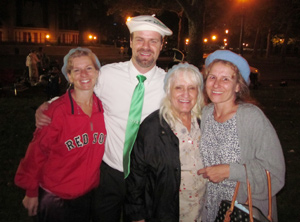 John Benevides, LOSM, with his sisters, Christine (l.), Judith (r.), and mother Eileen, who drove from Massachusetts.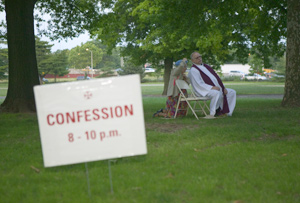 Priests offered the sacrament of penance for two hours and hundreds of pilgrims confessed.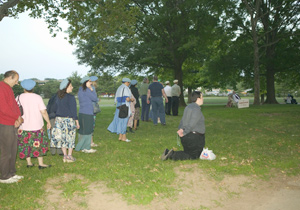 "All who are in the pure spirit of the light will have nothing to fear. If you fall victim to satan, you must immediately run to receive a new store of grace from your pastor in confession and the receiving of My Son's Body. My children, you must concentrate now all on saving the souls of your children and those you love. There is not much time left."
Our Lady, Aug. 13, 1977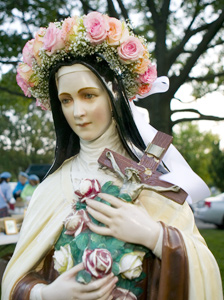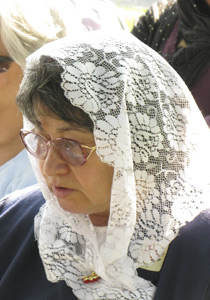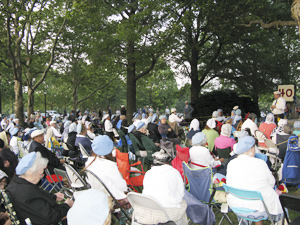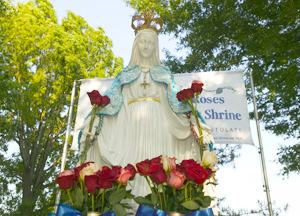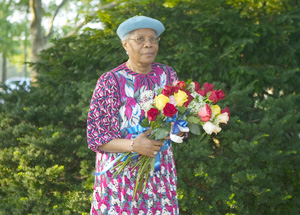 All roses are blessed by Jesus and Mary with the power of cure and conversion. They are passed out near the end of the Vigil (and Holy Hour) to the pilgrims who later press them in a book and laminate them on special cards (printed by SMWA) for distribution to all God's children, especially the ill and suffering. We receive many testimonials of the power of these mystical roses. For a free Rose Petal click here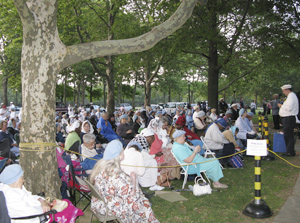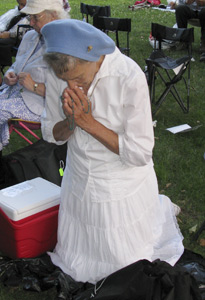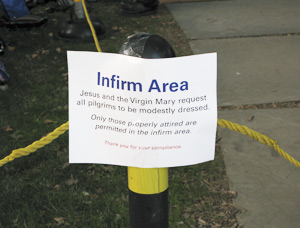 The infirm area: on September 30, 1980, Our Lord instructed Veronica to set up a special roped-off area for the sick and suffering. They would be the beneficiaries of outstanding graces at all Rosary Vigils. Numerous cures and conversions have been wrought, some of them massive, with doctors' statements and medical documentation providing authentication.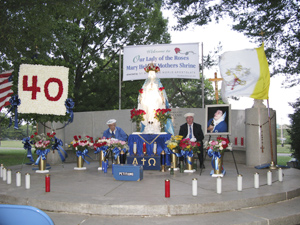 One of the reasons we pray on the Sacred Grounds is for atonement. Our Lady has said on April 14, 1973 that, "Should the prayers of atonement be discontinued on these sacred grounds, the Chastisement in earth time will be hastened."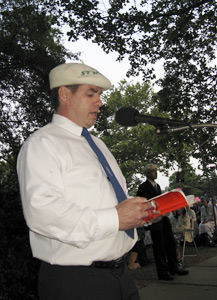 | | | |
| --- | --- | --- |
| | Francis Harrington leading the litany for priests on the last day of the Year of the Priest. | |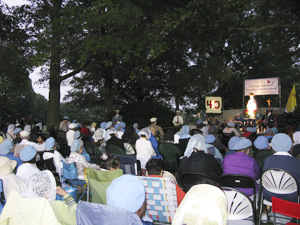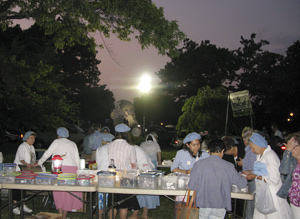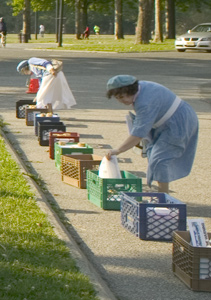 The Message from Heaven, including Heaven Speaks Today and Your Letters, was available in the thousands for free as the pilgrims loaded up so they could evangelize their hometown. To receive all the latest news from the Bayside Mission at no cost, just fill out our form and you'll receive our mailings and regular eAlerts.
Click here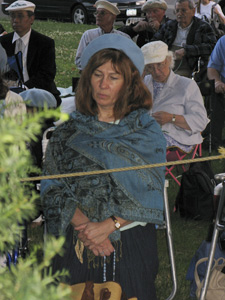 Jane Elliott of Scranton, Penn.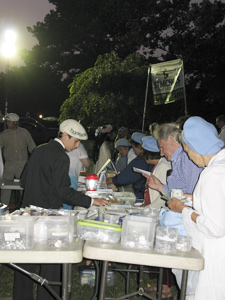 | | | |
| --- | --- | --- |
| | Peter Consoli (l.) of Yardley, Penn. helping at the service area. | |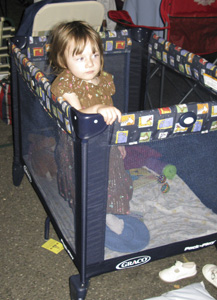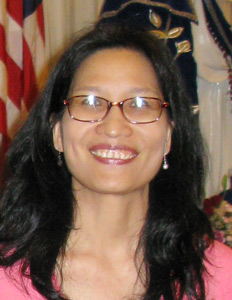 | | | |
| --- | --- | --- |
| | Special guest soloist, Yvonne Cheng, former opera singer at La Scala, Italy, sang Panis Angelicus, Archangel Michael, and Ave Maria (Bach/ Gounod). | |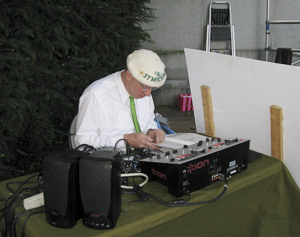 Bill Dykes, LOSM, preparing the sound system for Yvonne Cheng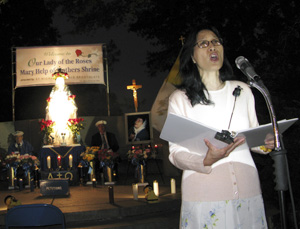 Yvonne belting it out. To hear the world class voice of this gifted soprano; and also the Rosaries, welcome address from SMWA President Michael Mangan, brief audio clip from the June 18, 1993 Message and more, click here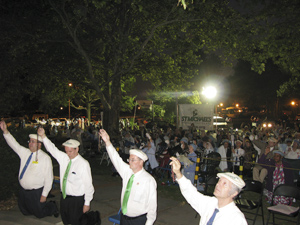 Each Vigil at 9 p.m., during a solemn interval, the pilgrims kneel and raise their Rosary to Heaven invoking the powerful intercession of Jesus and Mary.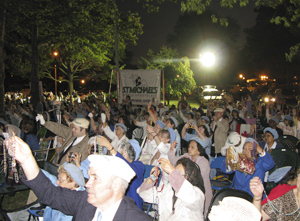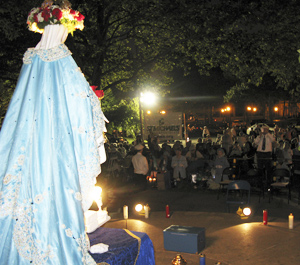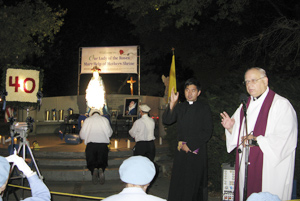 The good Fathers impart their priestly blessing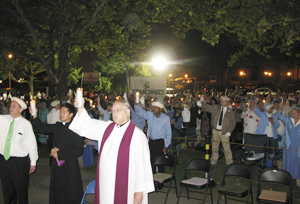 All the pilgrims raise candles to herald the 40th Anniversary of Our Lady of the Roses, Mary Help of Mothers, repeating the words:
Mary, Light of the World, pray for us
Our Lady of the Roses, pray for us
Mary, Help of Mothers, pray for us
Dear Michael and Lay Order
of St. Michael,
It was a great 40th and well worth the expense of SMWA! I understand that you are carrying a deficit of $5800 from the enormous Anniversary costs. And now, Veronica's 15th Anniversary is upon you with its considerable expense. Here's my thoughtful gift (tax-deductible) to help cover the 40th Anniversary gap and to assist with our beloved seer's 15th Anniversary events. Click here now to donate
NEXT PAGE
Open House | Procession | Rosary Vigil
Veneration of the Rosary | Holy Hour | Banquet Special Mass | Organizers' Conference
40th Anniversary Index | Home