Open House
Saturday June 19, 2010
Our Lady's Workshop 12 - 4 p.m.
The 40th Anniversary honoring Our Lady of the Roses, Mary Help of Mothers on Saturday, June 19, and Sunday, June 20, was a resounding success. Faithful from across the globe made the grace-filled pilgrimage. Some countries represented were Canada, England, Germany, India and Samoa.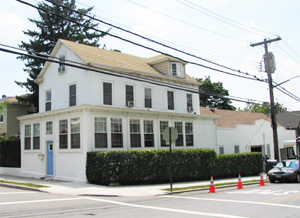 Our Lady's workshop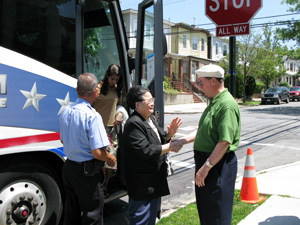 James Donohue (r.), Vice President of St Michael's World Apostolate (SMWA) , greeting pilgrims as they exit the bus. This is organizer, Elisa Cortez, of San Francisco, Calif.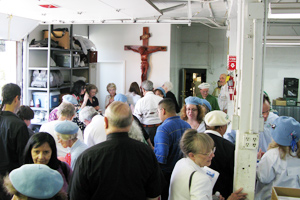 About 100 pilgrims gathered for the Open House at Our Ladyís Workshop. They got a first-hand look of our sizeable operation when they toured the offices and pressroom. They also enjoyed good conversation, refreshments and our gardens.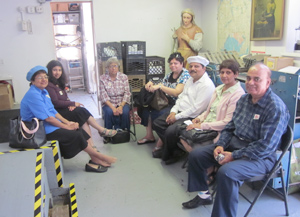 Carole Gonsalves (l.), Mumbai, India organizer, with the pilgrims/family she brought from India & England.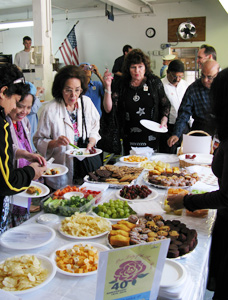 The good pilgrims getting refreshment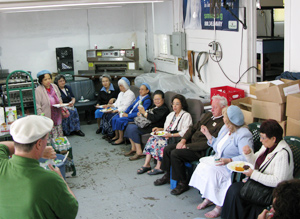 James (l.) chatting with the pilgrims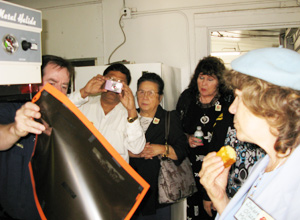 Francis Harrington of Burlington, Mass., a professional pressman who frequently volunteers his services for SMWA, demonstrates the printing process of Our Lady's Message.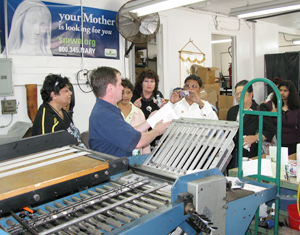 Francis demonstrating our folding machine and how, for example, it can letterfold 10,000 issues of Heaven Speaks Today per hour.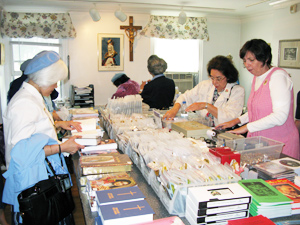 Anniversary Gift Shop In the mailroom, rosaries, medals, books and other sacramentals were laid out and made available to the pilgrims who purchased many items for their loved ones back home. Alice Dennis (r.) of Bay Shore, N.Y., who volunteers her time for Our Lady, assisted the devotees.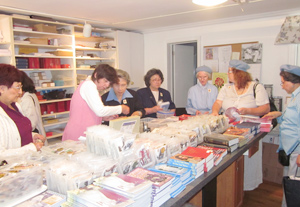 The tour continues as SMWA President, Michael Mangan (c.), shows his office.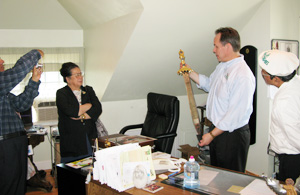 Michael exhibiting the sword of St. Michael, a replica from the Vatican Museum, that hangs on
his wall.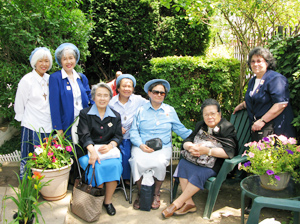 Some of the Northern California pilgrims in the "Vatican" gardens.
NEXT PAGE
Open House | Procession | Rosary Vigil
Veneration of the Rosary | Holy Hour | Banquet
Special Mass | Organizers' Conference
40th Anniversary Index | Home