Although the Warning will be awesome, it is not intended to be a punishment but a desperate plea to change our lives and society for the better.
After all, how long could we expect our patient Creator to tolerate the rampant "four sins crying to Heaven for vengeance": abortion or murder, homosexuality, oppression of the poor and defrauding laborers of wages?
Before the terrible hand of justice is felt upon the world, the Warning will be the final attempt of a loving Father to reach His children of earth.
A full and intensive understanding of this cataclysm-event has come to be known through Our Lady's message at Bayside, given to the late seer, Veronica of the Cross.
---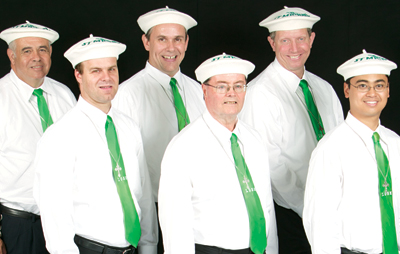 (front, l to r) John Benevdes, James Donohue (Vice President) and Darryl Bolisay; (back, l to r) Peter Frank, Michael Mangan (head of Lay Order and President) and William Dykes; not present, Luis Camacho, who is ill.
---
Our Lady said on December 31, 1974:
Unprecedented; Unprecedented
"The world will receive a major Warning of great magnitude. It will be a spectacle that has never been seen in the world before."
Veronica described this coming Warning in ecstasy on April 21, 1973: [2]
Huge explosion
"It's as though everything has exploded in the sky—the flash! And it's very hot! It's very warm! Oh! Oh! It feels like I'm burning. Ah-h-h!
"Now the sky is very white. Colors—blues, purples—it's like a huge explosion. . . . And the voice, Our Lady says, is a voice within you. [Voice:] 'Your warning before Chastisement!' Flash, fire, and the voice within you. The final Warning before Chastisement."
Our Lady was concise on December 24, 1974:
Your epiphany
"There will be a gross, immense, terrifying to many, Warning to mankind."
In a word, the Warning is a herald of the great Chastisement and the Second Coming of Jesus, so that every person on earth will have their chance to reflect on their spiritual state beforehand. And it only behooves us to do so, since we certainly want to be in God's grace before the Chastisement in which three-fourths of humanity will perish in the flames of Divine justice. Therefore Our Lady said on September 28, 1974:
Deep impact
"It is from the merciful heart of the Eternal Father that you will receive a great Warning. Man will feel that the very powers of the elements have shaken the very foundations of his being, so great will be the impact of this Warning from the Father. But none shall doubt that it had come from the Father."
Veronica stated in her commentary of May 30, 1973:
Your soul on fire
"I have seen the Warning. . . . It will be a tremendous explosive force in the sky, and many will think that the end of the world has come. But actually for—oh, a short time you will feel as though you're on fire. . . .
"It will be a personal warning to each soul. And this Warning will be to try to purify you so that we can avoid the ultimate Chastisement."
On Tuesday afternoon, February 15, 1994, while talking with Michael Mangan (SMWA president) on the phone, Veronica received an ominous, disturbing vision of the coming Warning, her last communication from Heaven on this subject.
Veronica was looking out her kitchen window when she saw the sky on fire with all flames and gases. At this time, Our Lady informed her that many will die of sheer fright and that there would be a lack of oxygen.