Attack on America Index | Golden Warrior | Home
"It is your duty as a Catholic
. . . to spread the message of God and save some
of these poor souls" (Jesus, June 18, 1984).
With all of the recent bioterrorist attacks of anthrax, our mission as apostles of the latter days becomes even more urgent. Let us mobilize and get this message out to the four corners of the globe.
We printed Attack on America in full brilliant color to make it even more attractive and eye-catching for distribution and mailing. This should make your job a little bit easier. So place your order of Heaven Speaks Today, sharpen your pencils or put on your sneakers, there's a lot of missionary work to do.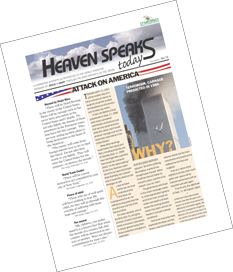 Our low, low price for bulk amounts will remain the same. Naturally all of this is costing us thousands more, but no effort or expense should be spared to shout from the rooftops the only solution to war and terrorism.
Bishops, Congress informed
We have sent out hundreds of press releases to media across the nation and we mailed this message to the U.S. Bishops, the U.S. Congress, and of course, to our 35,000 pilgrims at the cost of $11,500.
As a member of our team, though, we depend on your help--spiritual and temporal. It's crucial now. You have always been so kind and generous to Our Lady's cause for which we are always grateful and also confident that you will respond now again.
Your gift of $10, $100, $500, $1000 or more will help us immensely with this project. You can charge your gift by going online and using our safe and secure website or by calling our orderline 1-888-830 SMWA (7692). A big thanks in advance.
For a donation of $20 or more we will send you a complimentary copy of our popular Ground Zero radio broadcasts (shows 193 and 194). Also see our impressive Ground Zero report. There's over 50 photos that have moved many visitors.
Your gift is needed today
We hope to hear from you today. There is no time to lose. Remember to place your order for Attack on America and please include your kind and thoughtful gift. Whatever your means allow, $10 or $20 or $1000, it is a gift to Our Lady and Her desperate cause of the latter days for which you will be handsomely rewarded: "All that you give in faith and charity shall be returned to you threefold" (Jesus, June 1, 1978).
Thank you for all your prayers. Please keep them rising to Heaven. They are vital for the life and health of this apostolate. Be assured you and your loved ones are remembered daily in our community Rosaries and prayers and at all of the Rosary Vigils and Sunday Holy Hours.
Pax Christi
We can receive your offering by:
mail:
St Michael's World Apostolate
P.O. Box 514, Bayside, NY 11361
(by check, money order or credit card)
toll free orderline:
1-888-830-SMWA (by credit card)
website:
gift box (by credit card)