Attack on America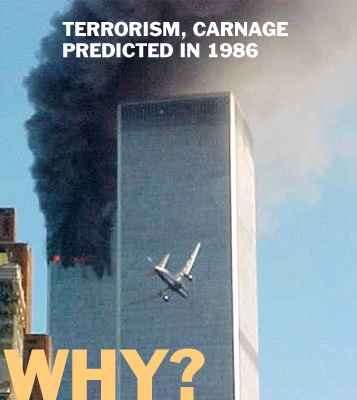 Associated Press
TUESDAY, SEPT. 11, 2001 will be another day of infamy in American history as we grimly recall the cruelest and deadliest act of terrorism ever to strike any nation.
In fact, the Mother of God prophesied on Sept. 27, 1986 what many considered unthinkable on American soil: that not only would terrorism strike this nation, but it would produce "carnage such as has never been seen before in the United States."
Many other warnings would follow from Jesus and Mary, including ironically one on Tuesday, Sept. 11, 1990 when the Virgin Mary said that there would be a terrorist attack "on the state building." At the time, Veronica understood this to mean the Empire State Building, but undoubtedly it meant the attack on the Pentagon as well.
As sad as these events are, we must understand also that there are consequences for sin, for willfully turning away from the merciful love and rule of the Eternal Father.
For when abortion, sins of the flesh (Gal. 5), and gross violation of God's Commandments is excused, rationalized or simply ignored today, then Divine protection and grace is withdrawn.
Our Blessed Mother explains: "All of this suffering, My children, mankind has brought upon himself. When he left the Eternal Father he turned to satan, and this is his reward" (June 30, 1984).
The great beauty and hope in Our Lady's message, however, is the opportunity it gives to amend our lives, to save our nation and avoid or at least lessen the coming chastisements if we listen and act, for Heaven's counsel is always conditional.
And so we must pray more, especially the Mass and the Rosary, read the Scriptures, observe strictly the Ten Commandments and practice true selfless love for God and neighbor.
If we as a nation strive mightily to do this, then much grace and peace will be restored and America will be beautiful and safe again.
If we do not, the nightmare of Sept. 11 will happen again.
St Michael's World Apostolate extends heartfelt thoughts and prayers to all who were personally affected by this terrible tragedy. We have also arranged for Gregorian Masses (30 consecutive days) to be said for the repose of the souls of the thousands who perished.


Heaven Speaks Today, No. 12, second edition
Warned by Virgin Mary
"There will be blood flowing in the streets of the United States. There will be carnage such as has never been seen before in the United States and Canada. Do not take lightly the threats of those murderers in the European states that have felt this carnage. They are now setting up their plans to bring destruction to the heart of the Americas. . . .
"The enemy will come from foreign nations now to try to shed this blood. Do not take their words to you lightly. They will enter the United States for one purpose—to destroy the morale."
Our Lady, September 27, 1986

World Trade Center
"There will be a great destructive act committed in your city of New York."
Our Lady, September 14, 1976

Peace of mind
"Those who are of well spirit will have nothing to fear, My child, for they will go through this crucible of suffering with more hope and courage."
Our Lady, August 14, 1975

The answer
"My children, you understand it is a known fact that when the morals of a country fall, that country will be destroyed in one way or another. Wars are always a punishment for man's sins."
Our Lady, June 18, 1992

Arabian saber
"Great trial shall be set upon your nation. . . ."
Veronica: There's forming directly over Our Lady's statue . . . a very large cross, the handle, though, of a dagger . . . with a loop at the bottom, like. It's a symbol. And Jesus is nodding. . . . It's a very strange-looking, dagger-like saber, with a cross on a handle. . . . It looks almost like Arabian . . . like a very strange-looking Arabic—or something.
Jesus, December 24, 1979

Reign of terror
Veronica: I see there are very sinister-looking characters walking down the road nonchalantly but carrying bags. Within those bags there are submachine guns. . . .
"I see murder ahead now, My child, in your city of New York. Many shall be mowed down. It is an attack by a communist
nation. . . .
"These interlopers upon the serenity of the United States have dark skins. They are not from this nation, but they come from a presently warring nation. It is their object to destroy all and cause chaos in the city of New York. With their plans there will be bombs placed in strategic places and many shall die at the hands of these
ruffians. . . .
"One big reason for permitting this disaster in New York would be the abortion mills throughout the city and the country."
Jesus, October 1, 1988

Liberty struck
Our Lady told Veronica that another key target of the terrorists would be the Statue of Liberty.
January 1991

The solution
"The road away from these disasters . . . is only guided by prayer, penance, and atonement."
Our Lady, March 18, 1989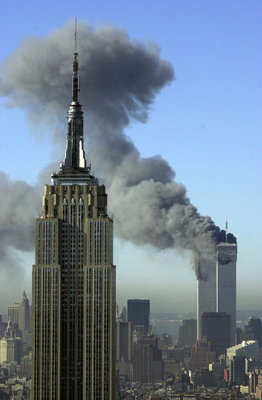 Associated Press
Empire State Building next?
Veronica: I see two men. . . . They're carrying with them now,
bags. . . . In those bags they are carrying all of the implements of destruction. . . .
"My child, they will choose the Empire State Building to bring more notoriety to the world."
Jesus, October 1, 1988

Demonic possession
"The minds of those who have fallen out of grace shall be captured and used by satan. . . . All manner of foul deeds, of cruelty, and of death shall come from their evil minds.
"Your city, My child, New York, shall go through a crucible of suffering, as many cities in your country and throughout the world."
Jesus, December 31, 1975

Wake up America!
"My children, awaken from your slumber! You live in a dream world. You believe that this cannot happen to you. O My poor children in North America—Canada, the United States—you do not know what it is to see the blood flow in the streets, to see your loved ones torn—their arms, their legs missing, their bodies and their bowels spewing out upon the grounds. Is this what you want?"
Our Lady, June 18, 1982

Rosary power
"How many times I came upon earth to try to warn you. Those nations that listened were free from harm. But they had to pray the Rosary—the Rosary and the Scapular."
Our Lady, April 14, 1984

Crucifix power
"Blood shall flow from the streets of New York soon. . . .
"Both front and back doors must have a crucifix. I say this to you because there will be carnage within your areas, and this will pass you by if you keep your crucifix upon your doors."
Jesus, June 30, 1984

Note: To order crucifixes, Rosaries and other sacramentals, see contact info below or visit our religious gift store.