The Order of
St. Michael
THE RELIGIOUS ORDER OF
St. Michael (OSM), with priests and brothers, was prophesied by Heaven in 1974. OSM will evolve from the present-day Lay Order of St. Michael (LOSM below), a prayerful, brotherly community of celibate men working full-time for the Mission under the name of St Michael's World Apostolate. Our Lady added later to Veronica of the Cross that President Michael Mangan is "going to be head of the Order of St. Michael" (Feb 7, 1994).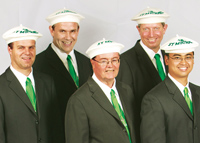 (l. to r.) John Benevides, Michael Mangan (head of Lay Order and President), James Donohue (Vice President), William Dykes, and Darryl Bolisay.
LOSM was established by Veronica of the Cross, publicly recognized by Jesus and Mary (Sept. 1988), and appointed by Heaven as the sole guardian of Our Lady of the Roses, Mary Help of Mothers Shrine.
Our Lady has explained that LOSM will establish the refuge—a sanctuary, a place of safety, grace and peace during the Great Chastisement. They will be joined by two other established orders: the Franciscans and the Discalced Carmelites who will assist the Order in ministering to the thousands who will flock there for solace and protection.
Our Lady of the
Roses Shrine
UNDER THE DIRECTION OF
the Lay Order, prayer services are regularly conducted here (rain or shine), as requested by Heaven. The Rosary Vigils are held in the afternoon or evening (see above). The Holy Hour offering for the Pope and priests is every Sunday from 10:30-noon. Bring another pilgrim with you. When you arrive look for the big St. Michael banner (below).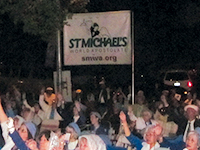 Pope blessing
PROVIDENTIALLY, THIS HOLY
Shrine rests on the former site of the Vatican Pavilion where Pope Paul VI visited and blessed the faithful at the close of the 1965 World's Fair. Today a large stone monument (exedra) commemorates the site, about 150 yards south of a massive steel globe (below) in Flushing Meadows Park, Queens, N.Y. It is here where the Shrine is beautifully arranged and decorated for each prayer service.
Even so, whatever hour or day you come, Jesus and Mary have promised to be there for you.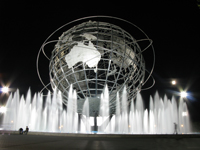 Modesty of dress
THIS PRACTICE IS HELD IN
the highest esteem by Our Lady and Our Lord. And so all good Christians should be vigilant in this regard, not only on the sacred grounds but also in their daily lives. Always observe the proper norms as established by the Vicars of Christ and Holy Tradition. Women must wear a dress or skirt below the knees and a head covering; no shorts or slacks are permitted. Men must wear loose-fitting clothes.
2023 Major events
53rd Annual May Crowning

53rd Anniversary Rosary Vigil


53rd Anniversary Banquet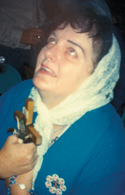 28th Anniversary of
Veronica of the Cross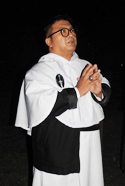 Dedication of St. Michael
the Archangel

Pilgrimage information
nearby hotels
organizers in your area
petition box
and much more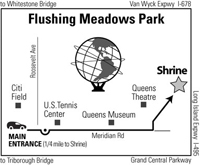 Blessed Virgin
kisses Rosary
THE MOTHER OF GOD KISSED the crucifix of the Rosary that adorns Her statue on October 29, 1994. We invite you to share in this supreme honor by kissing this crucifix yourself after the Sunday Holy Hour and Rosary Vigil.

Leave a legacy
of love through
your will
IT IS A PRAISEWORTHY ACT of charity to remember the Mission from Heaven before God calls you home. You are storing up treasure for yourself in Heaven because your thoughtful bequest will ensure many more souls will be saved by this powerful message. saved by this powerful message. in Heaven because your thoughtful bequest will ensure many more souls will be saved by this powerful message. saved by this powerful message.
And your glory in Heaven will be multiplied.
Just simply designate us as a beneficiary in your will: the Order of St. Michael, a New York not-for-profit corporation, DBA St Michael's World Apostolate. Thank you.