BRIEF HISTORY OF THE EXEDRA
A marble monument located in Flushing Meadows Corona Park. It was set up in June 1967 to commemorate the Vatican Pavilion of the 1964-65 World's Fair where Michelangelo's Pieta was exhibited and also where Pope Paul VI visited and bestowed his Apostolic Blessing on October 4, 1965 to the multitudes at the end of his historic journey to the United States. THE INSCRIPTION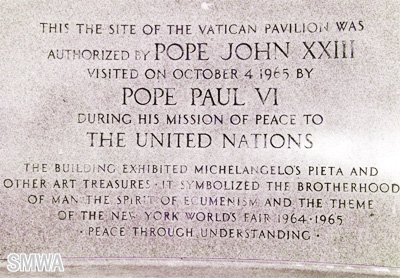 The Exedra is in the form of a scroll unfolding to reveal the above inscription: "This the site of the Vatican Pavilion was authorized by Pope John XXIII, visited on October 4, 1965 by Pope Paul VI during his mission of peace to the United Nations. The building exhibited Michelangelo's Pieta and other art treasures. It symbolized the brotherhood of man, the spirit of ecumenism, and the theme of the New York World's Fair 1964-1965 "Peace through Understanding".
THE CROSS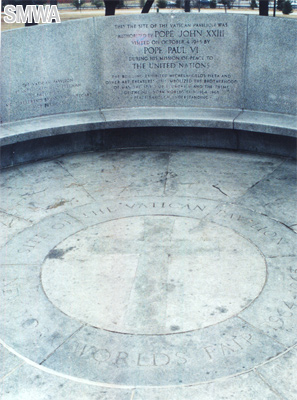 On the floor of the monument is a cross encircled by the words "Site of the Vatican Pavilion. New York World's Fair 1964 -1965"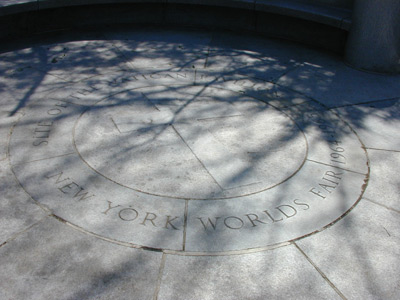 THE BAYSIDE CONNECTION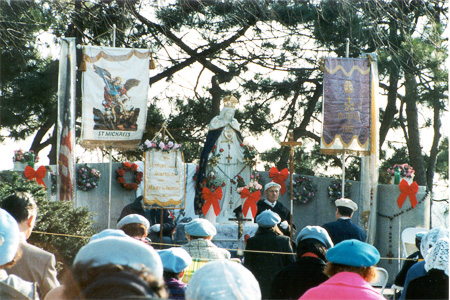 Our Lady of the Roses, Mary Help of Mothers Shrine is staffed
and directed by St Michael's World Apostolate.
Jesus and Mary regularly appeared here to Veronica of the Cross for many years. Numerous miraculous cures and conversions have been wrought at this hallowed site. Rosary Vigils and Sunday Holy Hours continue here to the present day. Pilgrims come from all over the world to pray for their loved ones, families and themselves and to offer their love and sacrifice. Our Lady said that these sacred grounds are a center of atonement and promised to be here as long as one person comes here to pray.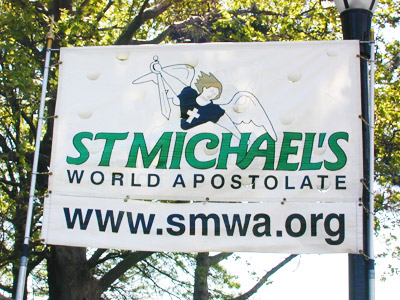 Look for the St. Michael's World Apostolate banner when you come.