St Michael's World Apostolate Index | Golden Warrior | Home
Our Lady's New Workshop
by William Dykes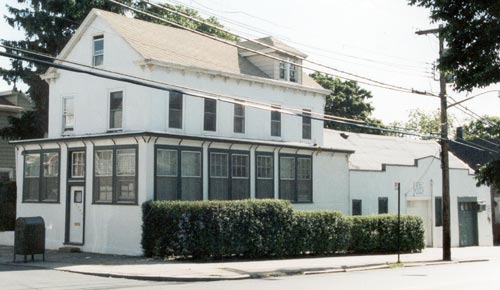 SMWA PROUD OWNERS OF
IMPRESSIVE 5000 SQ FT COMPLEX
IT IS WITH GREAT JUBILATION that we present to you the new headquarters for Our Lady's Mission at Bayside. It was your faith, prayers, gifts and unwavering support in SMWA that made this "miracle" possible.
Indeed, God's favor rests with us, the lay Order of St. Michael, as we continue our speedy comeback from a monstrous satanic attack that left us with nothing after being ousted on Christmas Eve '97 from the workshop we toiled in for many years.
Incredibly though, six months later Heaven reclaimed the shop for SMWA when OLR corp. auctioned it off on June 18, '98 and we won the bulk bid. All we had to do then is find a new place for all the machinery, presses and office equipment we had bought at a bargain price. After what we went through, this should have been a breeze. Well...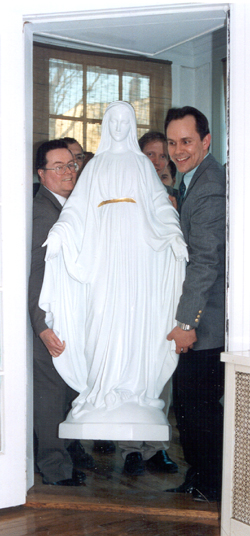 After the closing on March 2, the lay Order of St. Michael, observing a venerable custom, transported the Queen over the threshold of Her new workshop which Father blessed a few days later. Michael (r.), William Dykes, and James Donohue (l.) are visible.

SHOP HUNTING
And so, after a few good guidelines from President Michael Mangan, we set off. We looked at this building and at that building. Before long we had seen dozens of places within a 10-20 minute ride of the sacred grounds. Nothing came close to our specifications.
We huddled a few times trying to figure out what to do. By this time, we determined that owning a building, the Good Lord willing, rather than renting one was a better option in the long run because it would be more cost- effective, and not to mention, a valuable asset for the Mission.
Then following the Veronica of the Cross Anniversary weekend in August, fellow worker, Peter Frank, told us about a place that he had often walked by from church that had previously been for sale. It still had the signpost in the yard but not the for-sale sign. He inquired within, got the owner's phone number and a few days later we toured the premises. It struck us all right away, especially Michael, who said, "This is it. This is Our Lady's new workshop."

JUNE 18 CONNECTION
Truly it is a beautiful 5,000 square foot plot with a large three story, ten-room, brick and wood-framed stucco house built in 1927 with an attached 2200 square foot factory that was approved by the city in 1930. Guess what day? You guessed it—June 18! (Heaven was already putting Their rubber stamp on this purchase.)
The compact backyard has a stone well and is dense in vegetation that includes white and red grape vines, a fig tree (they're delicious), a peach tree, roses and various herb bushes. The place is enormous and is being transformed into a multimedia facility that will service our global apostolate. It is about ten minutes by car from the holy grounds and just a short distance away from our community residence.
We were told the house originally functioned as a bakery and the factory was used as a stable. Then during WWII, the property was used as a secured complex for making aviation parts for the war.

ST MICHAEL VS LUCIFER
But now it will be used in another war, hidden but raging: "The forces of hell are loosed upon your earth now. They try to stop all missions from Heaven. It is the final battle of the spirits; the forces of good and evil now entangle en masse" (Our Lady, June 4, 1977).
Little did we know we were entering the battlefield from the first day we set foot in the place. Clearly, satan didn't want us to get this property.
The real estate broker who showed us the place said it was owned by a person who lived in Europe. A few days later we found out that it was actually owned by his son who lived down the street. This example only cracks the surface of the ferocious battle that would ensue for the next seven months between Saint Michael and Lucifer for this prized jewel.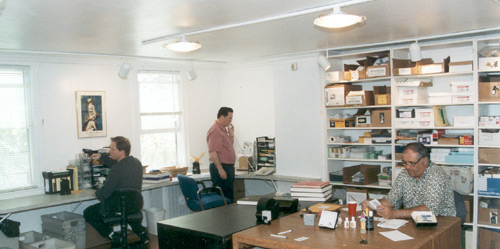 WORKROOM

"PENANCE, MY CHILDREN"
The price changed more than the Dow Jones and phone calls and beeps were not returned for days and weeks on end. When they were returned it was always a new wrinkle or surprise. Things were told us that never materialized, the seller changed lawyers three times, at times did not even have a lawyer and was juggling three other buyers behind the scenes.
Day after day, week after week, month after month, it was this problem or that problem.
For example, our application fee to the institution giving us the loan was bounced by our commercial bank due to their error. It was humiliating and would have jeopardized the loan if we did not act promptly. Subsequently, our bank wrote a letter of apology to the lender clearing our good name. This was a typical aggravation.
We can't even begin to get into all the other problems because it would require many more pages.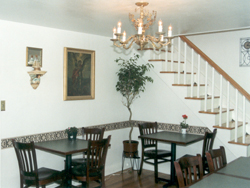 LUNCHROOM
Our real estate lawyer and mortgage broker were getting more and more frustrated and exasperated. They couldn't believe what was going on all this time. They had never experienced this before. At one point or another, they separately told us to forget about it, to move on. Everybody was throwing up their hands in disgust.
It was a mess. And it dragged on for so long—the waiting and uncertainty was torturous.
Every worker now knew that Satan was trying to sabotage the Divine plan. He was fighting fiercely, but we kept our course. We didn't give up or give in. In our negotiations, we were tough but fair.
On two occasions, to end the stalling, we had to fax an ultimatum that the seller responded to at the last possible minute. We "lost" this deal three times but somehow got it back. Every time the door would close, another one would open up.
The Good Lord wanted us to have it, but He wasn't going to hand it to us either.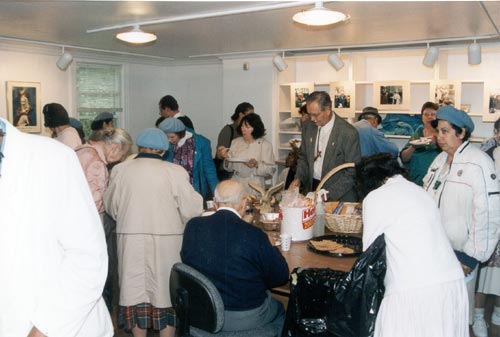 Open House, May 23, 1999
After the Sunday Holy Hour for priests, over 100 devotees jammed the new headquarters to celebrate this gift from Heaven.

A PRESSURE COOKER
By February we discovered the property was deep in foreclosure and that the court had ordered an auction for March 3 which was definitely not an option for the seller. He was now forced to quickly close the sale.
With the auction in two weeks the owner was desperate and at Michael's prodding, began praying the Rosary (probably for the first time in many years).
With his back to the wall the game was now over, but unfortunately he created a pressure cooker for us. We didn't get the signed contract until one week before the closing. Unbelievable, if you consider, in a normal sale you receive it three months before.
With all this dumped in our lap at the last moment we were now forced to get in order in a few days a mound of paperwork that you are usually given months to do.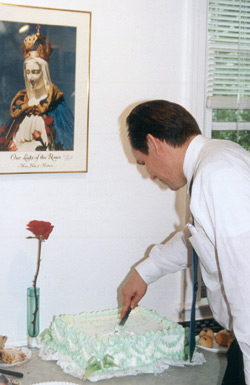 Michael cuts the celebration cake

BLOOD, SWEAT & TEARS
Bear in mind that if we did not have all the required documents for the closing, seven months of blood, sweat, and tears would be in vain. The day before the closing, the phones and faxes were still buzzing as we finished up the paper demands.
Even with the closing day scheduled nobody believed it would happen. In fact, true to form, the seller and his lawyer arrived 45 minutes late for the big day, as we all anxiously awaited.
Needless to say, the lay Order of St. Michael was taken to the brink of the precipice. The test was brutal but the workers hung in there, especially Michael, who knew deep in his heart that, "Our Lady wants us to have this place."

Alleluia! Alleluia! Finally, on March 2, 1999 (the anniversary of one of the appearances of Our Lady to Saint Bernadette at Lourdes, France), God and Our Lady through the intercession of Saint Michael, our patron, secured us an office and workshop for the Mission of Heaven (and at an excellent price).
It was truly a miracle that everything in the end came together.

SATAN FOILED
Saint Michael, the Golden Warrior of Heaven had vanquished Lucifer. Throughout this whole ordeal, we constantly invoked Saint Michael (Our Lady of the Roses, Mary Help of Mothers, Saint Joseph and Veronica of the Cross, too). Michael led us in two community novenas to this Prince of the Heavenly Host.
Looking back now brings to mind two Biblical passages and Our Lady's locution: "And thou hast patience and hast endured for my name and hast not fainted" (Apoc. 2.3), "The devil, as a roaring lion, goeth about seeking whom he may devour (St. Peter 1, 5.8) and "Only by struggle will you be successful" (February 13, 1994).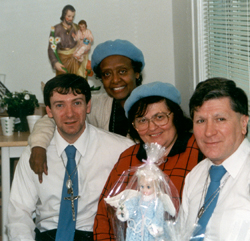 Some of Our Lady's devotees
at open house.
Pilgrims have already been pouring in. At our recent open house, Dora Desira remarked, "If nothing else, this beautiful workshop proves that the Blessed Virgin Mary and Jesus wanted you fellows to lead the Mission."
And on the lighter side, part-time worker, Eileen D'Elia said after seeing the new workshop, "We used to complain at the other shop to Our Lady that there were no windows whatsoever, and now look what we have. It's beautiful."

THANKS TO YOU
A special thanks to you who prayed and sacrificed and those who helped with the down payment, some who chipped in with their widow's mite. Raising the funds was in itself a huge challenge. It took the material, for sure, but most especially the spiritual to put to flight the evil one. We can't find the words to adequately thank you. With God's help and yours, we succeeded.
William Dykes is a member of the lay order of St. Michael
and St Michael's World Apostolate