48th Annual
May Crowning
Sunday, May 27, 2018
St Michaelís World Apostolate held the 48th Annual May Crowning at Our Lady of the Roses, Mary Help of Mothers Shrine during the Sunday Holy Hour for priests. Over 85 pilgrims enjoyed the memorable and uplifting occasion despite the rainy and wet conditions.
Ironically, the spirits were not dampened but buoyed and enlivened by this powerful public demonstration of Marian veneration.
After the event, 55 pilgrims gathered for this festive occasion at Our Lady's Workshop and enjoyed the fine home-cooked luncheon, the camaraderie of companionable spirits and a brief, but stirring talk by President Michael Mangan.
Procession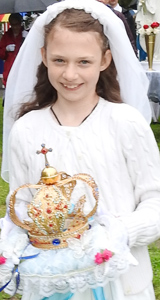 Gabrielle Riendeau, 10, of
N. Brookfield, Mass., crowned Our Lady this year.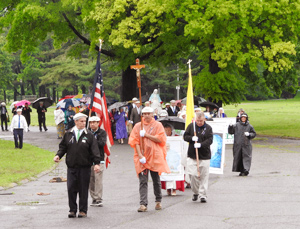 Michael Mangan (l.), SMWA President, along with Tom Bauer of Elysburg, Penn. (c.) leading the procession.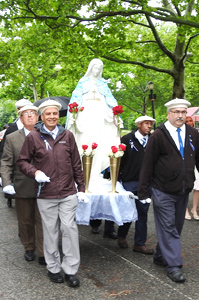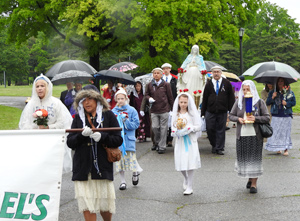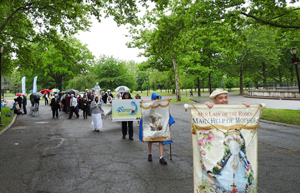 The Rosary Procession in honor of Our Lady of the Roses, Mary Help of Mothers.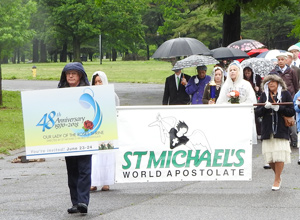 Crowning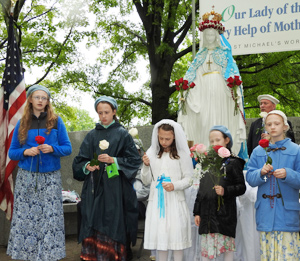 Children grace the excedra. Gabrielle with four of her sisters (l. to r.) Angelina, Chalice, Kimberly, and Arianna.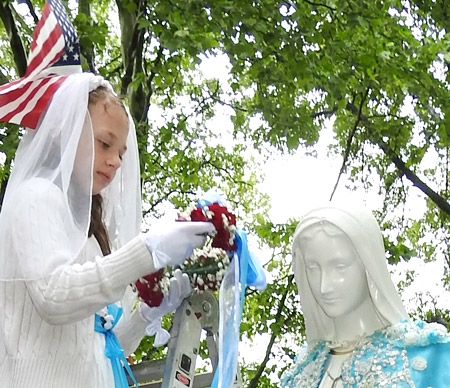 Gabrielle placing the garland of roses on Our Lady.
Gabrielle crowns Our Lady as Queen of Heaven and Earth.

Gabrielle's sister, Kimberly, leading a decade of the Rosary.

Marisela Camacho of Corona, N.Y.

Michael Lucci of
Brooklyn, N.Y.

After the May Crowning, the pilgrims lined up to venerate the crucifix kissed by Our Lady. After the May Crowning, the pilgrims lined up to venerate the crucifix kissed by Our Lady.

Gourmet Luncheon at
Our Lady's Workshop

Kristy Riendeau, the proud and beaming mother of seven, including Gabrielle. Kristy made the 350-mile, round-trip from Massachusetts on the same day.

Michael rallying the faithful, and giving some highlights of his Mission in Rome.

Some 55 pilgrims came in fellowship to Our Lady's Workshop to break some bread.
The head chef, long-time devotee, Margarita Reyes, of Flushing, N.Y. (2nd from l.), worked around the clock for days preparing and cooking this sumptuous feast for a large and hungry crowd. She had great help from (l. ro r.) Monica, Esther and Elda.

Regina Fox, International Pilgrimage Coordinator, dressed as the Statue of Liberty (with rosary in hand), gearing everyone up for the 48th Anniversary Weekend Celebration.

Gabriellle doing the honors.

My 48th Anniversary donation
For the complete Organizer listing
View spectacular report of the 46th Anniversary
Directions to Our Lady of the Roses Shrine

A big thanks to the photographers:
Darryl Bolisay LOSM, John Benevides LOSM
and Vic DuBois.

Your comments on this
report are appreciated

Last updated: