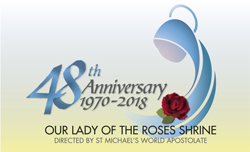 Open House
Saturday June 23, 2018
Our Lady's Workshop
12 - 2 p.m.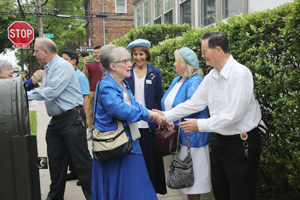 James Donohue (r.), Vice President of St Michael's World Apostolate (SMWA) and William Dykes (l.), Lay Order of St. Michael (LOSM), greeting pilgrims as they exit the bus.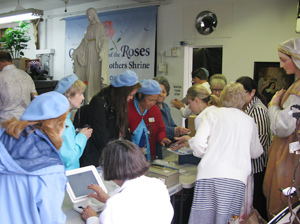 About 50 pilgrims gathered for the Open House at Our Ladyís Workshop. They got a first-hand look of our sizeable operation when they toured the offices and pressroom. They also enjoyed good conversation, refreshments and the gardens.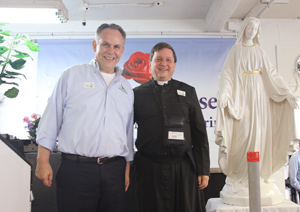 SMWA President Michael Mangan with Fr. Terry Brennan of Santa Fe, N.M..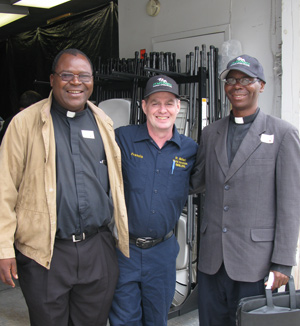 Regular attendee, Fr. Ignatio Bokosi (l.) and first-timer, Fr. McDonald Kankhono JCL, both from Malawi, Africa, with Francis Harrington of Boston, Mass.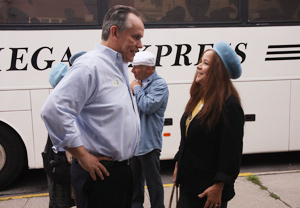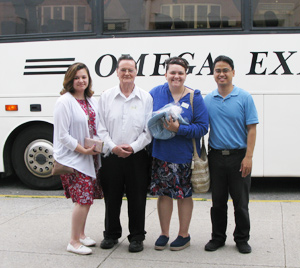 Brianna Jimenez (l.) and her sister, Rebecca, just outside the workshop with James Donohue LOSM and Darryl Bolisay LOSM.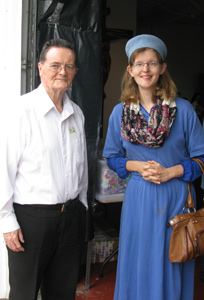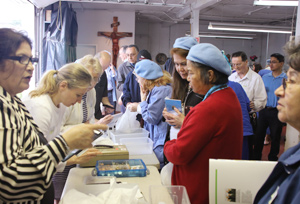 Anniversary Gift Shop Rosaries, medals, books and other sacramentals were laid out and made available to the pilgrims who obtained many gifts for their loved ones back home.
Our Lady said on March 18, 1975, "Know that your sacramentals were given for reason. Do not cast them aside! Understand, My children: if satan removes your sacramentals, he has more advantage over you."
To order your sacramentals from the SMWA gift store, click here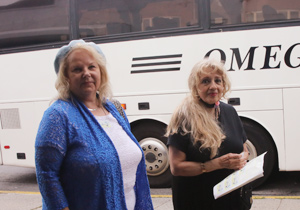 SMWA International Pilgrimage Coordinator, Regina Fox (l.), and Elda Lobillo of Corona, N.Y., enjoying the festivites.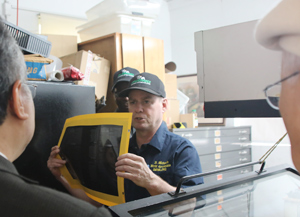 Francis Harrington, ace volunteer and professional pressman, demonstrating the printing process of Our Lady's Message.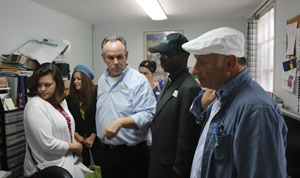 Michael explaining the nuts and bolts of the Art Department, including the graphic design of the brochures and the website design and maintenance.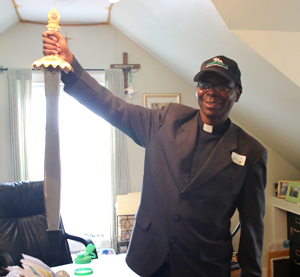 Fr. McDonald Kankhono JCL, holding the replica sword of St. Michael from the Vatican Museum that hangs in Michael Mangan's office.
NEXT PAGE
Open House | Procession |
Rosary Vigil | Holy Hour | Banquet |
Special Mass | Organizers' Conference |
48th Anniversary Index | Home