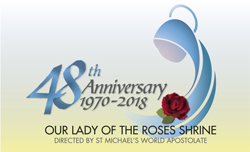 Our Ladyís
48th Anniversary Banquet
Sunday June 24, 2018
LaGuardia Plaza Hotel
Grand Ballroom
12 - 4:30 p.m.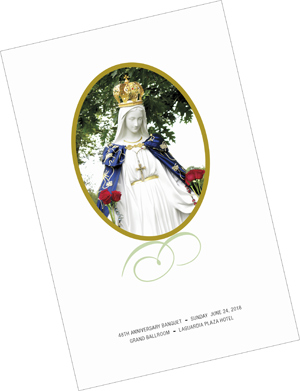 48th Anniversary Banquet Program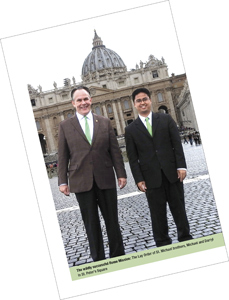 Inside cover of the 48th Anniversary Banquet Program.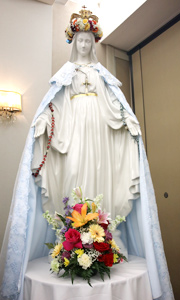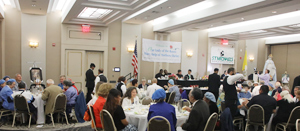 125 pilgrims from throughout the world enjoying first-class cuisine and good company.
"I was very pleased at the numbers present at the Banquet. It eases my heart to see so many true souls present."
Our Lady, June 21, 1992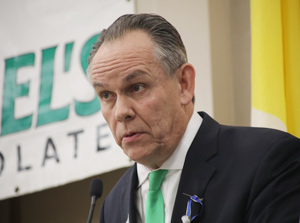 Michael delivers a rousing talk:
Moving the needle . . .towards a full-scale, transparent investigation of the apparitions of Bayside. It has never happened. Period.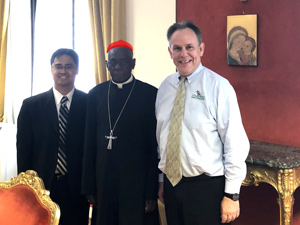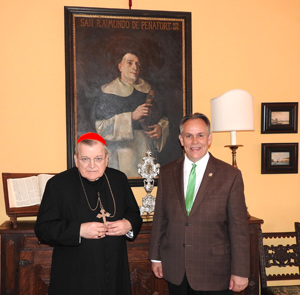 Productive and encouraging
President Michael Mangan (top, rt.) and Darryl Bolisay, LOSM, had two separate private audiences in May with His Eminence Robert Cardinal Sarah (top) and His Eminence Raymond Leo Cardinal Burke. The Cardinals were kind, attentive and pastoral.
Cardinal Sarah is the Prefect of the Congregation for Divine Worship and the Discipline of the Sacraments. Cardinal Burke is Cardinal Patron of the Sovereign Military Order of Malta and Member and Prefect Emeritus of the Supreme Tribunal of the Apostolic Signatura.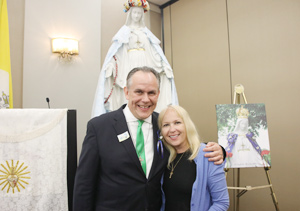 Michael with his twin sister, Mary Bauer of Elysburg, Penn.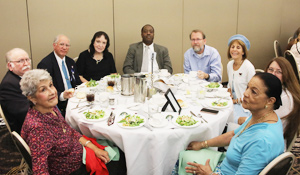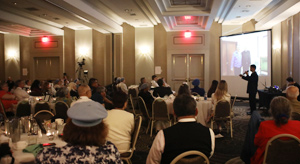 Darryl Bolisay, LOSM, narrated a spectacular photo presentation of the Rome mission on the big screen.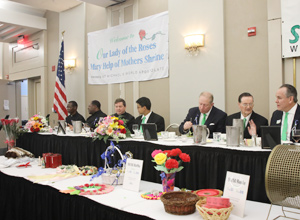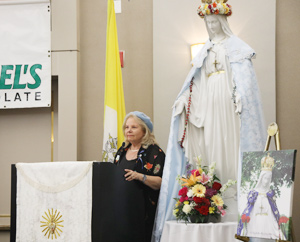 Regina Fox, SMWA International Pilgrimage Coordinator, gives a welcome address. A special thanks to Regina and her husband, Jim, for all their hard work in assisting the Lay Order of St. Michael in making Our Lady's special weekend a successful one.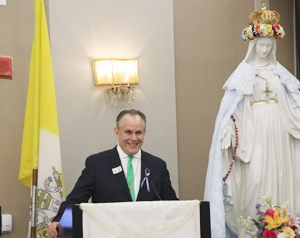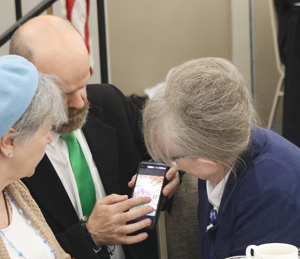 The Lay Order of St. Michael with the good priests.
Kathryn Woeppel of Spokane, Wash., engaging Michael.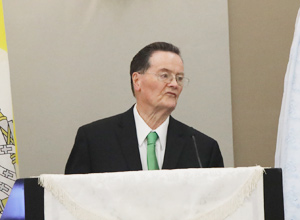 James Donohue, SMWA Vice President and LOSM, giving a special thanks to all those who volunteer their time and talent for this vital Mission of the latter days.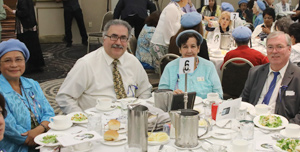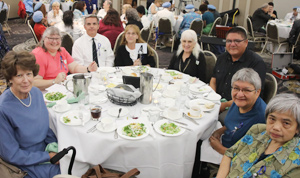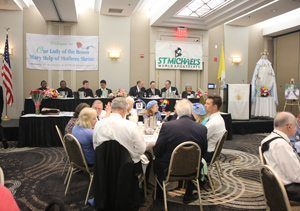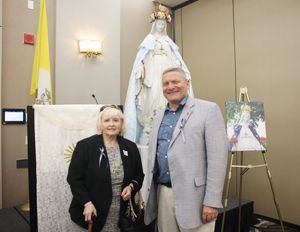 Sal and Rosemary Manno of East Meadow, N.Y.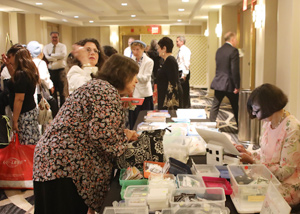 Alice Dennis of Bay Shore, N.Y., tending the service area right outside the Grand Ballroom.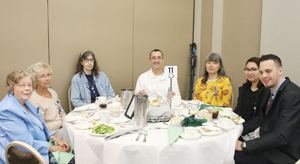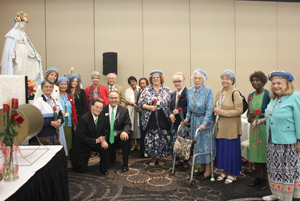 Organizers recognized James and Michael (c.) with the leaders who received a blessed rose from James.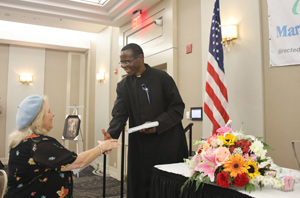 Fr. Kankhono of Malawi won a door prize.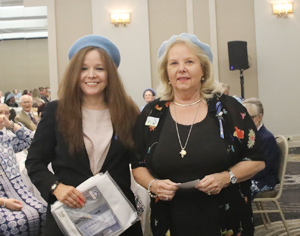 Amy Kiesling of Albuquerque, N.M., with Regina Fox.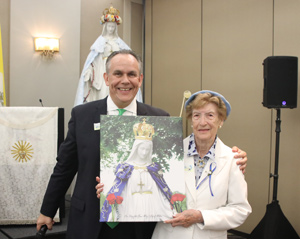 Margaret Meaney of Bayside, N.Y., won the exquisite first door prize: framed picture of Our Lady of the Roses, Mary Help of Mothers.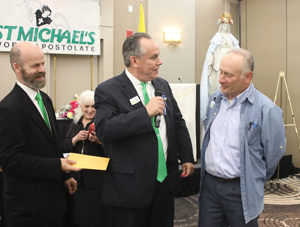 Anthony Mills of Vallejo, Calif. (r.) won the 50/50 Raffle.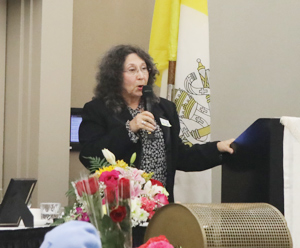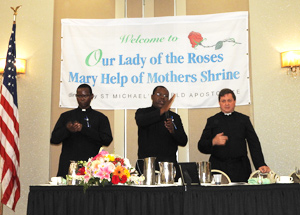 The good Fathers imparting their blessing at the end of the Banquet.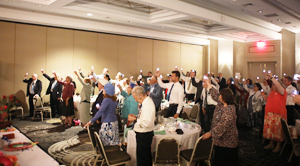 The candlelight ceremony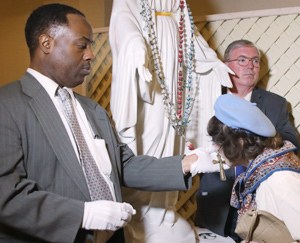 After the Banquet, the pilgrims venerated the Crucifix kissed by Our Lady.
Dear Michael and Lay Order
of St. Michael,
It was a great 48th and well worth the expense of SMWA! I understand that you are carrying a deficit of $6500 from the enormous Anniversary costs. Here's my thoughtful gift (tax-deductible) to help cover the 48th Anniversary gap and to assist with the upcoming big St. Michael weekend events.
Click here now to donate
NEXT PAGE
Open House | Procession |
Rosary Vigil | Holy Hour | Banquet |
Special Mass | Organizers' Conference |
48th Anniversary Index | Home