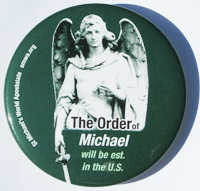 St. Michael Celebration Weekend
September 28-29, 2013
Our Lady of the Roses Shrine
Procession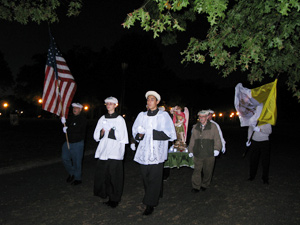 On Saturday, September 28, St Michael's World Apostolate held a procession/Vigil at the sacred grounds in honor of St. Michael, our glorious patron and guardian.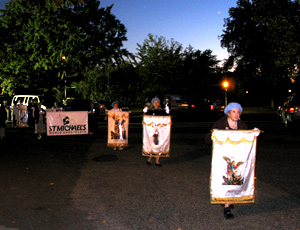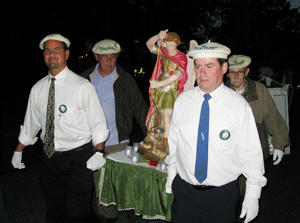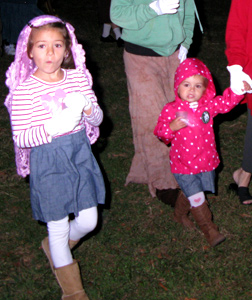 "Suffer the little children, and forbid them not to come to Me: for the kingdom of heaven is for such."
St. Matthew 19:14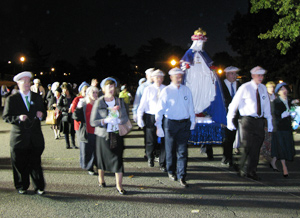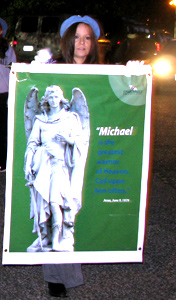 Amy Kiesling, Albuquerque, N.M. organizer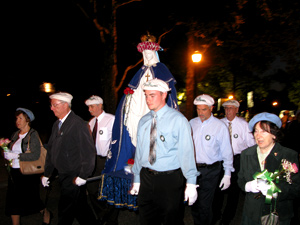 "Jesus sends His emissary down to strengthen you in the battle. Michael will stand beside all who call; for he is the leader, the warrior chosen by God for His army."
Our Lady, Dec. 31, 1970
Rosary Vigil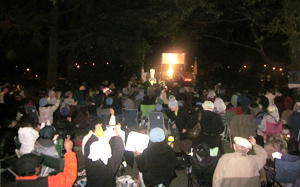 230 prayer warriors honoring the great Archangel and our glorious patron.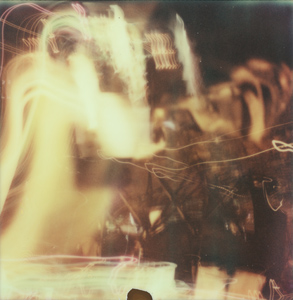 In this miraculous photo taken by a Bayside devotee from Los Angeles, the side profile of a monster or demon appears on the upper left-hand side. Note the evil face and pointed horns.
Jesus and Mary are exposing the demons especially during this Vigil to demonstrate the importance of devotion to St. Michael, who will battle the forces of antichrist in these final days.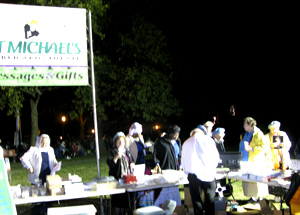 Gift Shop Rosaries, medals and other sacramentals are available at our service area, which is directed by Peter Frank, LOSM (c.).
For our Gift Shop online, click here.
The Message from Heaven, including Heaven Speaks Today and Your Letters, was available in the thousands for free as the pilgrims loaded up so they could evangelize their hometown. To receive all the latest news and developments from the Bayside Mission at no cost, just fill out the form and you'll receive our mailings and regular eAlerts.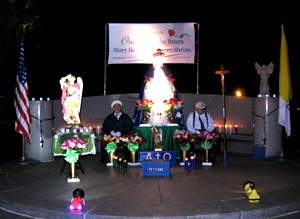 "There will be a great War, and at the time of this crisis will return the Lord of lords and the King of kings. Prepare yourself now, for the time for your earth grows short. A great change will soon take place."
St. Michael, Nov. 20, 1972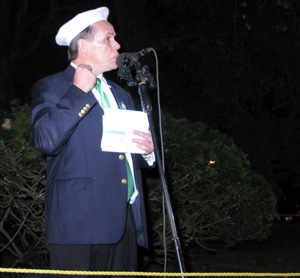 SMWA President Michael Mangan, giving a brief, stirring address on St. Michael.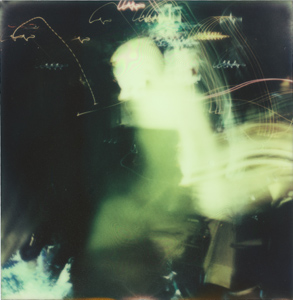 On the top, center of this amazing miraculous photo, the side profile of a man appears with a prominent nose. Who do you think this is?
Narcisa Garcia of Queens, N.Y., a Bel Canto soprano, who inspired and impressed the multitudes with her powerful rendition of Ave Maria (Shubert).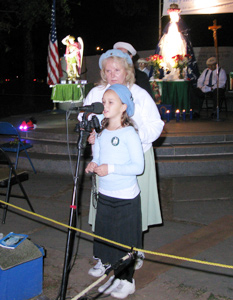 Kiara Bauer of Elysburg, Penn., leading in prayer. She was assisted by Regina Fox, SMWA Pilgrimage Coordinator.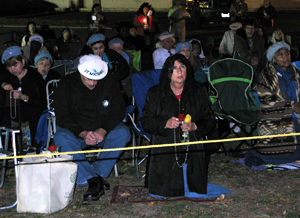 Sunday Holy Hour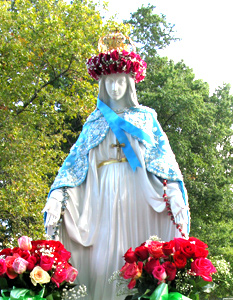 "You pastors who have rejected Michael as the guardian of the Faith and My Son's House, you must return him in prayer and visual sight, his monuments, his statues to My Son's House, Church."
Our Lady, June 18, 1976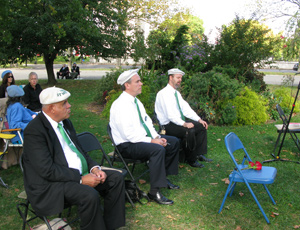 The Lay Order of St. Michael
"The Order of Michael will be established in the United States."
Our Lady, May 22, 1974
The Order of St. Michael will be headed by Michael Mangan, as stated by Veronica on February 7, 1994, and will be approved by the Church even before the great Chastisement.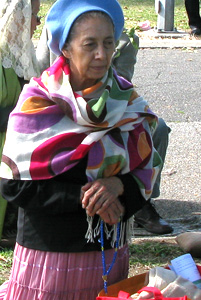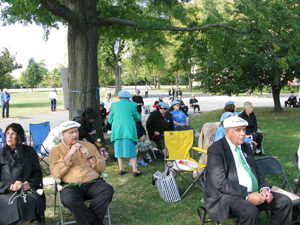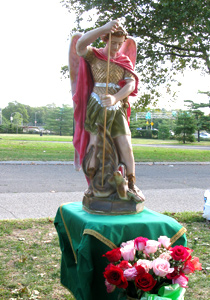 "Woe, woe, woe to the inhabitants of the earth! How many warnings shall go out to mankind before he acknowledges his sin and does penance for His God, a God most merciful and just, Whose heart is torn asunder by an ungrateful generation which has given itself to all manner of depravity and defilement of his soul!"
St. Michael, Dec. 27, 1975
Special Meeting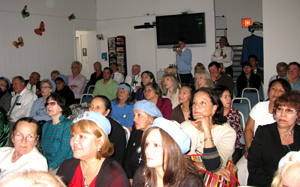 After the Holy Hour, we had our special meeting in honor of St. Michael.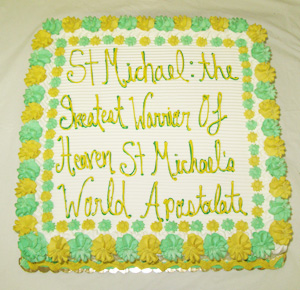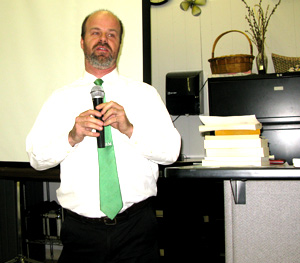 John Benevides, LOSM, delivering his riveting talk on why haunted houses are nothing to scoff at.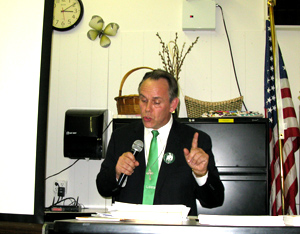 Michael Mangan announcing the three never-before-released startling locutions to Veronica.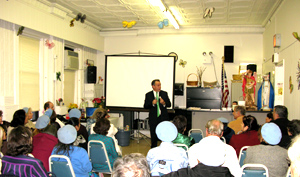 "You are not alone, My child. As the battle accelerates, you will find many companionable spirits. The joy of unity will be among you."
Our Lady, Dec. 24, 1976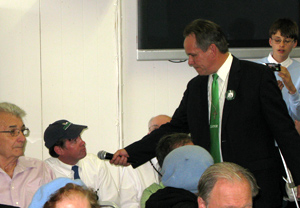 Q & A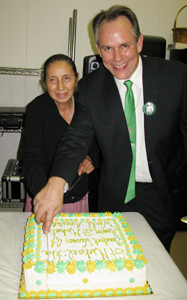 Thank you so much! for all your help in making St.Michael's Celebration Weekend an unforgettable one. Whether it was your prayers, Masses, gifts, participation, volunteering or all of the above, your contribution was indispensible. We couldn't have done it without you.
The Vigils that followed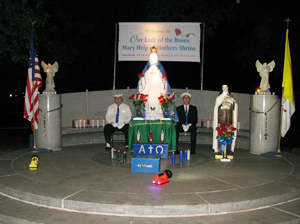 October 2, the Vigil of St. Theresa of the Child Jesus and in honor of the Holy Guardian Angels.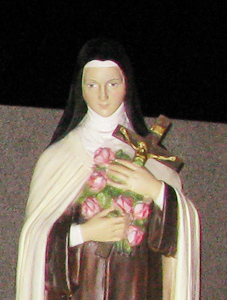 St. Theresa of the Child Jesus launched the Bayside Mission when she first appeared to Veronica of the Cross on August 6, 1968.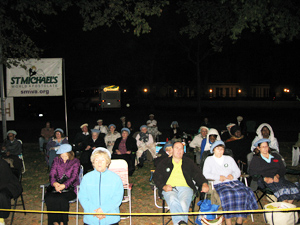 October 5, the Vigil in honor of Our Lady of the Holy Rosary, in which 100 pilgrims attended.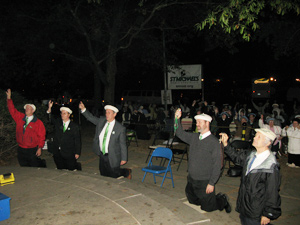 The blessing of Jesus and Mary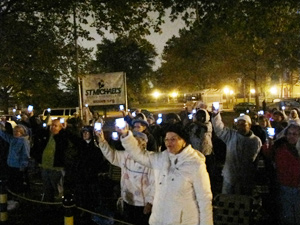 The candlelight ceremony to the end the Our Lady of the Rosary Vigil.
Dear Michael and Lay Order
of St. Michael,
It was a well-deserved, inspiring weekend for our glorious patron, St. Michael the Archangel, who was duly honored.
Here's my tax-deductible gift which is truly needed to help cover the considerable expenses of this important and worthwhile event; and for upcoming Vigils, too.
Thank you in advance.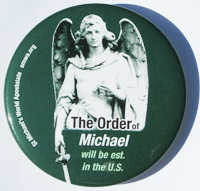 Your comments on this
report are appreciated
SMWA photos by John Benevides, LOSM
and Darryl Bolisay, LOSM
Pilgrimage Information | Shrine Photo Index | Home