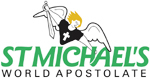 Here's what's happening!
Welcome to Our Lady of the Roses, Mary Help of Mothers Shrine, staffed and directed by St Michael's World Apostolate (SMWA).
Grave of Veronica of the Cross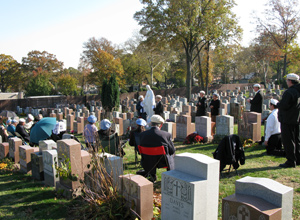 On Nov. 8, we made our annual visit to Veronica's grave during this month of the Holy Souls in Purgatory.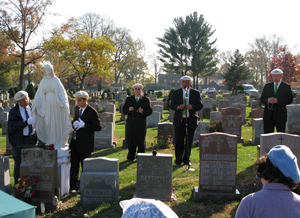 Peter Frank, Lay Order of St. Michael (LOSM), leading a decade of the rosary. We especially remembered all the deceased Baysiders and those souls who rest in this cemetery.
Venerating the relic of
St. Mary Magdalene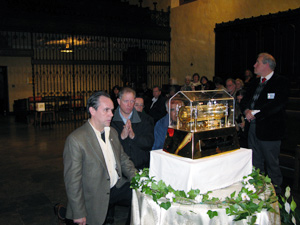 On Nov. 12, the LOSM traveled to the Immaculate Conception Seminary in Huntington, N.Y. to venerate the relic of St. Mary Magdalene.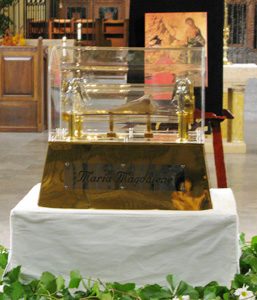 The reliquary containing the tibia (shinbone) of St. Mary Magdalene.
Our Lord said on Sept. 7, 1979, "Pray constantly in your homes. Do not abandon the statues and holy relics for modernistic sculpture and pagan artifacts."
New York Meeting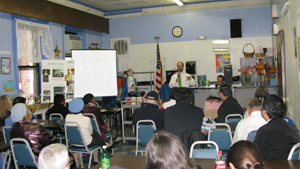 On Nov. 15, SMWA held a meeting where we discussed current events, latest news, Our Lady's Messages, etc.
Nov. 21 Presentation of the
Blessed Virgin Mary Vigil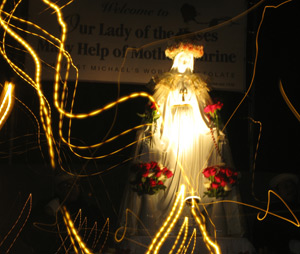 Here's some miraculous photos from this Vigil.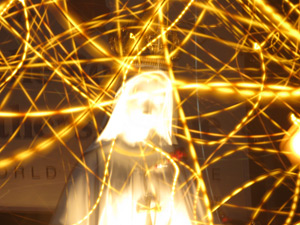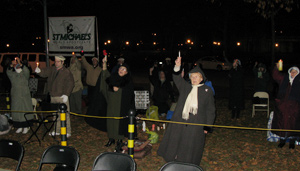 At the end of every Vigil, the pilgrims raise candles, repeating the words:
Mary, Light of the World, pray for us
Our Lady of the Roses, pray for us
Mary, Help of Mothers, pray for us
Nov. 29 Sunday Holy Hour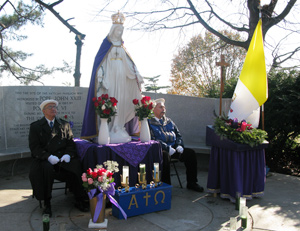 During the first Sunday in Advent, we placed a beautiful Advent wreath on the right side of Our Lady's statue. Michael Mangan, LOSM and SMWA President, prayed an Advent wreath prayer using a prayer from the traditional Latin Mass.
Michael also prayed the Creator Alme, the hymn for Vespers on the first Sunday in Advent. This hymn is normally chanted in Latin. However, for the devotees, we prayed it in English.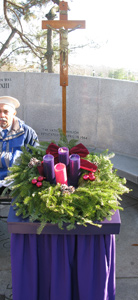 Robert Shea of Lexington, N.Y. deep in prayer
Visiting the sick
The LOSM visited with a long-time parishioner of our parish church. We arranged to have a priest devotee, Fr. Scott, hear her confession and give her communion.
Dec. 6 Sunday Holy Hour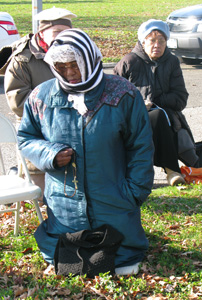 During this Year of the Priest, we continue to offer the Sunday Holy Hours for all priests.
Dec. 7 Immaculate Conception Vigil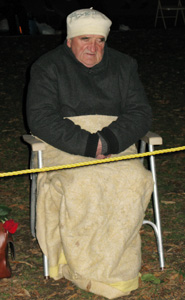 Jack Frost nipping at your nose Emanuel Lazarcik of Pittsburgh, Pa. braving the bitter cold. The temperature with wind chill was in the 20s F.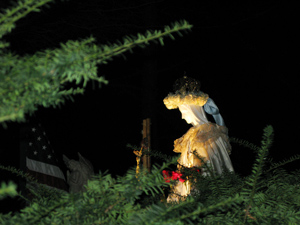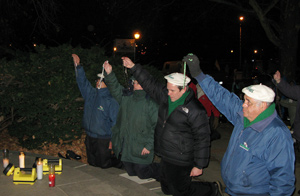 LOSM members (l. or r.) Darryl Bolisay, James Donohue (Vigil Coordinator and SMWA Vice President), Michael Mangan, and Peter Frank raising their Rosaries to Heaven invoking the powerful intercession of Jesus and Mary.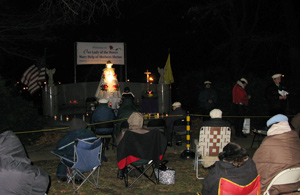 A visit with Fr. Skurla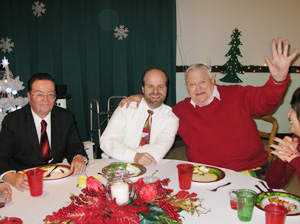 On Dec. 14, we visited SMWA Chaplain, Fr. Robert Skurla (r.), for the Christmas party at the Queen of Peace Residence, operated by the Little Sisters of the Poor.
ANNUAL MARCH FOR LIFE
January 22, 2010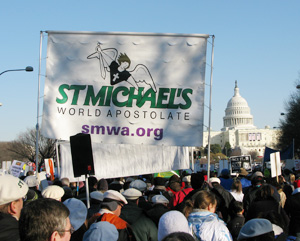 Last year's March for Life
SMWA is organizing a bus to Wash. D.C. for the pro-life march. To reserve your seat for this most worthy of causes -- call us today To view photos from the 2009 March for Life, click here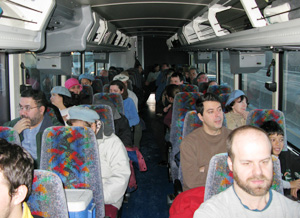 Your comments are appreciated
SMWA photos by Darryl Bolisay, LOSM
Last updated: