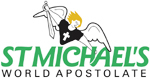 2009 February & March
Vigils / Holy Hours
Welcome to Our Lady of the Roses, Mary Help of Mothers Shrine, staffed and directed by St Michael's World Apostolate.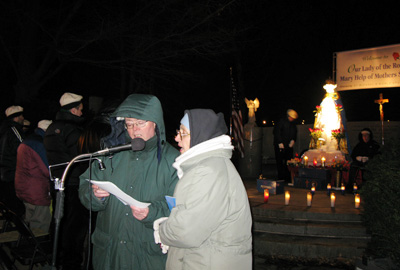 Vigil Coordinator, James Donohue, LOSM and Mary Ann Pressamarita of East Hampton, Conn. singing Christmas carols at the February 2 Vigil of the Purification of the Blessed Virgin Mary. The Purification officially ends the Christmas cycle.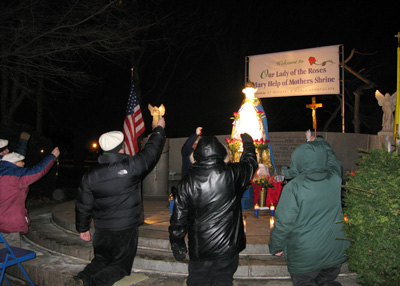 Each Vigil at 9 p.m., during a solemn interval, the pilgrims kneel and raise their Rosary to Heaven invoking the powerful intercession of Jesus and Mary.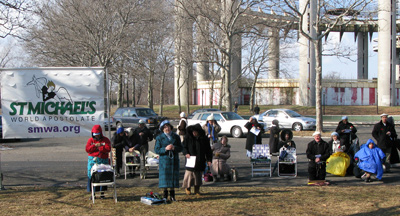 February 8 Sunday Holy Hour for priests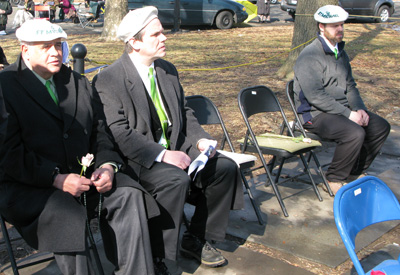 (l. to r.) Peter Frank, LOSM, and Michael Mangan, LOSM and SMWA President.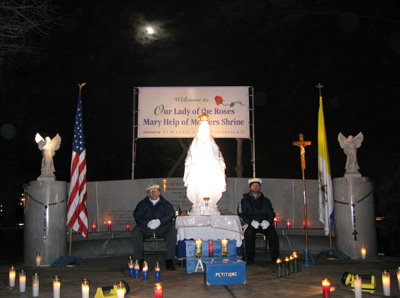 The moon emerges in the background during the February 10 eve of Our Lady of Lourdes Vigil.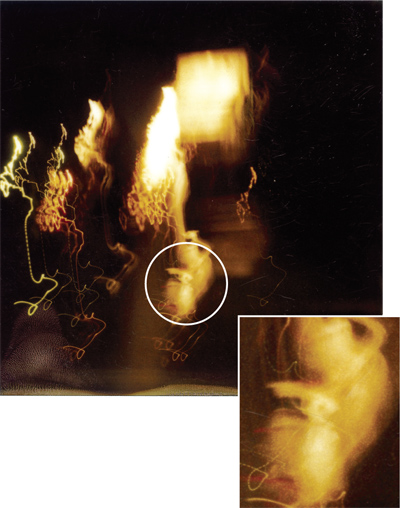 OUR LADY INSPIRES POPE
Polaroid photo taken of Our Lady's statue (c.) by William Dykes, LOSM, at the February 10, 2009 Rosary Vigil. He took the photo on his own initiative for the intention of Michael Mangan, LOSM.
The statue miraculously appears all aglow and below it you'll see what appears to be the side profile of the Pope, facing left, seated in his white cassock bathed in yellow (symbolic color of the papacy), with hand raised and index finger pointing (circled; see also enlargement).
Note the thick beam of light emitting from Our Lady to the Pope's head. It seems Our Lady of the Roses is inspiring Benedict XVI who in turn is pointing the way to the faithful: "Go to Her sacred grounds." And why wouldn't he? We have an outdoor Holy Hour every Sunday, often braving harsh elements, specifically, for the intention of the Pope and clergy.
The Vicar of Christ holds a singular place in the Mission of Bayside. You may recall that during John Paul II's pontificate, Veronica had a vision of the Pope (Sept. 14, 1985), and Our Lady of the Roses also revealed: "I, too, have appeared to the Holy Father" (Sept. 27, 1986). To purchase a copy of this photo, click here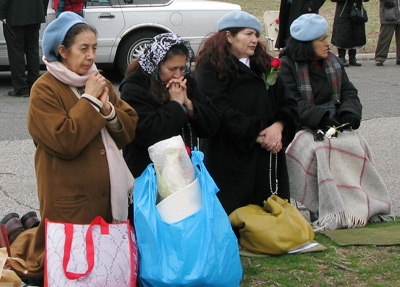 March 15 Sunday Holy Hour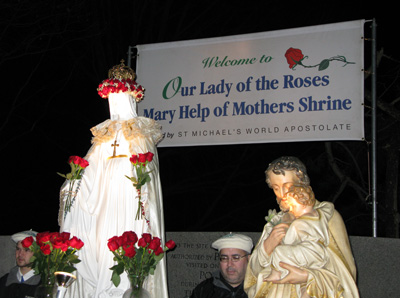 March 19 St. Joseph Vigil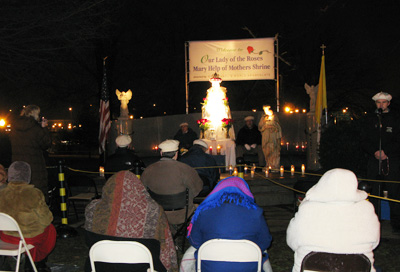 About 100 of the faithful attended this Vigil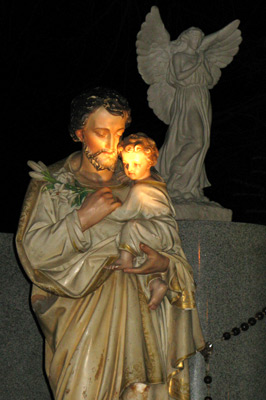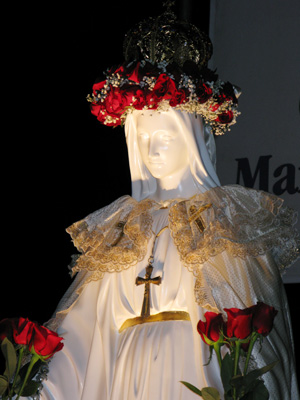 "Prayer is the most powerful force in the light now, My children. It is a form of penance; it is a form of begging for the repatriation of souls."
Our Lady, Sept. 28, 1977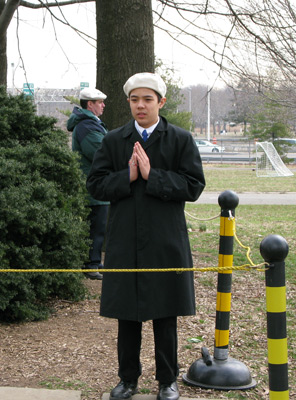 Joseph Valle, 12, of Kew Gardens, N.Y. praying devoutly at the March 22 Sunday Holy Hour.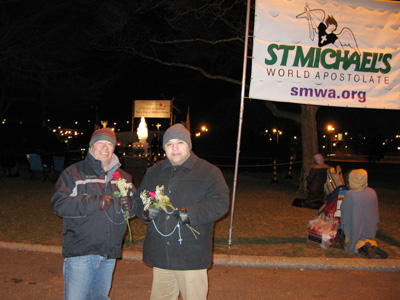 First-time pilgrims, Raphael and Frank Wence drove all the way from Buffalo, N.Y. to offer their prayers of atonement at the March 24 eve of the Annunciation of the Blessed Virgin Mary Vigil. They were very impressed and overwhelmed by the experience and plan on joining
us again.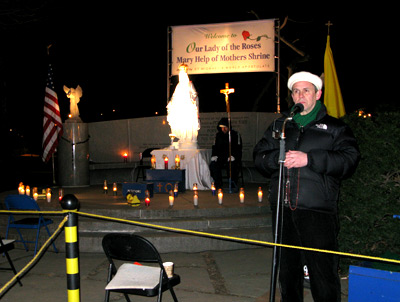 Michael Mangan, LOSM and SMWA President, leading a rosary.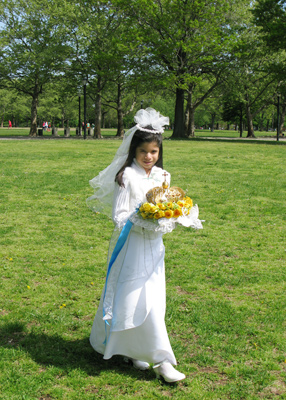 Last year's May Crowning
ANNUAL MAY CROWNING
May 3, 2009 10:30 a.m.
<![if !vml]>

<![endif]>
Your comments are appreciated
SMWA photos by Darryl Bolisay, LOSM
Last updated: 10/29/09