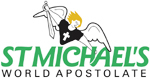 2013 Annual
May Crowning
Sunday, May 19, 2013
St Michaelís World Apostolate held the Annual May Crowning at Our Lady of the Roses, Mary Help of Mothers Shrine during the Sunday Holy Hour for priests. Over 115 pilgrims enjoyed the memorable and uplifting occasion. Despite the wet weather, it didn't dampen the spirit, as all agreed that they got soaked with graces.
Following, 70 plus pilgrims gathered for this festive occasion at Our Lady's Workshop and enjoyed the fine home-cooked luncheon, the camaraderie of companionable spirits and a brief but stirring meeting led by President Michael Mangan.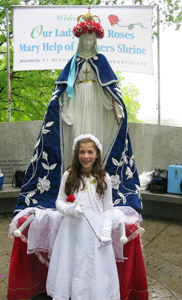 Welcome to Our Lady of the Roses, Mary Help of Mothers Shrine directed by St Michael's World Apostolate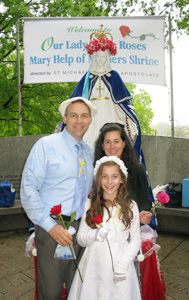 Elizabeth Rose Fleury, 10, of N. Andover, Mass., crowned Our Lady this year; with her mom and dad, Lori and John.
Procession
10:30 a.m.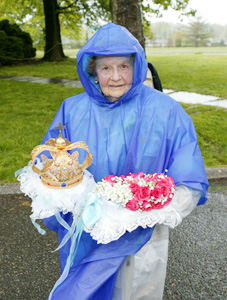 Key task worker, Antonia Rehrl, of Kings Park, N.Y., preparing for the procession.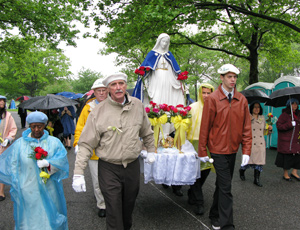 These men had the honor of carrying Our Lady's statue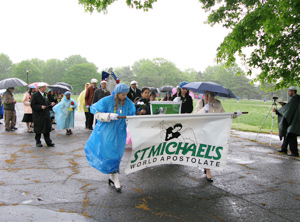 "Remember, My child, I have requested that mittens [white gloves] be worn in all public processions."
Our Lady, Sept. 13, 1974
"Enjoy, My children, the rains--graces in abundance. Know that this is an advantage, for it rains many graces upon you. Ask for more."
Our Lady, Sept. 28, 1974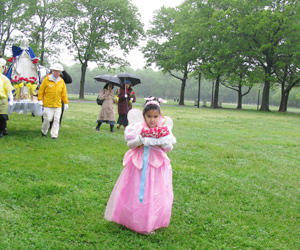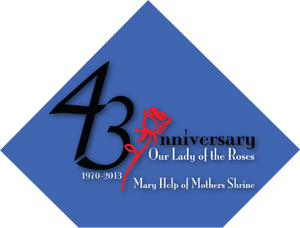 Remember! Mark your calendar for Saturday,
June 15 and Sunday, June 16. You don't want to miss this grace-filled celebration weekend.
For more info click here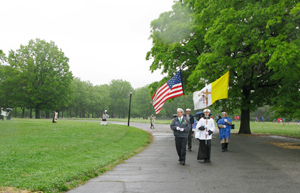 Michael Mangan, SMWA President (l.), leading the procession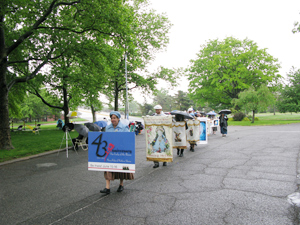 The pilgrims in Rosary procession to honor Our Lady of the Roses, Mary Help of Mothers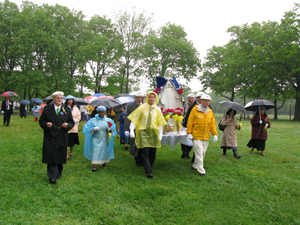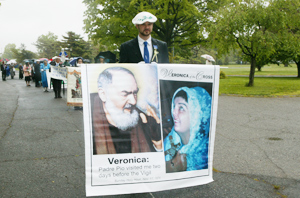 The pilgrims process around the sacred grounds three times during the Joyful Mysteries of the Rosary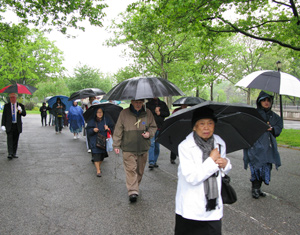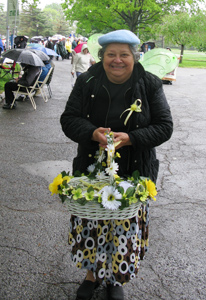 Angela Urquia of Kearny, N.J.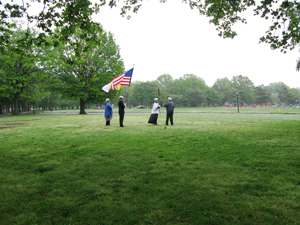 NEXT PAGE
Last updated: