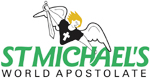 Veronica of the Cross revealed some treasured information on the Order of St. Michael. She draws from three sources: 1) private messages at the Rosary Vigils, 2) locutions at her home from Jesus and Mary, and 3) miraculous photographs that she was graced to see and understand.
The holy seer stated that the Order of St. Michael consists of a lay and religious Order. At present, the lay Order already exists in the full-time staff of St Michaelís World Apostolate. This will eventually evolve into the religious Order of St. Michael while the lay Order continues to function as a distinct branch of the Order. The Order of St. Michael will be headed by Michael Mangan, as stated by Veronica on February 7, 1994, and will be approved by the Church even before the great Chastisement.

The timing is very important as this Order will establish the refuge--a sanctuary, a place of safety, grace and peace during the Chastisement. There will be a chapel on the premises, from which the Sacraments will be dispensed to the multitudes. A miraculous photograph specifically confirms that the Order of Michael will be spared the devastating and destructive force of the Ball of Redemption. However, they will have to stay indoors for an indefinite period in order to escape the baneful effects of radioactivity.
The Franciscan and Discalced Carmelite Orders will also come to the refuge and assist the Order of Michael in ministering to the thousands who will flock there for solace and protection.
The land used for the refuge will be donated by a Bayside believer; Veronica believed it would come with buildings, and will be located on Long Island.
The Order of St. Michael will consist of priests, brothers, lay men and women, and also nuns who will guide the faithful in the traditional Roman Catholic Faith. They will enjoy the special protection of St. Michael and will keep the true Faith alive during the one-world persecution of antichrist.